Memories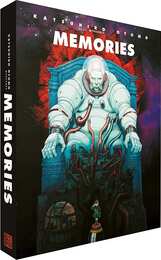 Three unforgettable tales from the master of anime
Certificate: 12
Running Time: 113 mins
Retail Price: £39.99
Release Date: 2022
Content Type: Movie
Synopsis:
From the creator AKIRA, Katsuhiro Otomo, comes three unforgettable animated tales

Featuring a brand-new English dub!

Episode 1: Magnetic RoseAlone on a mysterious ship in deepest space, she waits. Once a beloved diva, she is now nothing more than memories. And for unsuspecting travelers that respond to her beacon, she will be their undoing.Episode 2: Stink BombA junior scientist gets the flu, and decides to try out some newly developed pills. But he takes the wrong ones, turning him into a walking, talking, and exceptionally clueless weapon of mass destruction.Episode 3: Cannon FodderA day in the life of a small family in a big city. In this city, there is only war. There are no dreams, there is only labor. And there is no god, only a gigantic cannon.
Special Features:
MEMORIES Special Preview Video
Trailers
Art Gallery
Interviews, Translation & Liner Notes
"Cannon Fodder" Animated Storyboards
About the Restoration
Behind-the-Scenes
Magnetic Rose English Dub Outtakes


Comes packed in a rigid case with an Amaray case to hold the Blu-ray.

Includes a 36-page booklet filled with information about the production of these films from the cast and crew.

Also included is a poster of the anthology's iconic cover art.

Video Tracks:
1.85:1 widescreen 1080p

Audio Tracks:
DTS-HD MA 5.1 Surround English
DTS-HD MA 5.1 Surround Japanese
DTS-HD MA 2.0 Stereo English
DTS-HD MA 2.0 Stereo Japanese

Subtitle Tracks:
English

Directed By:
Kôji Morimoto
Tensai Okamura
Katsuhiro Ôtomo

Written By:
Satoshi Kon
Katsuhiro Ôtomo

Starring:
Isamu Hayashi
Keaton Yamada
Keiko Yamamoto
Ryuji Nakagi
Hideyuki Hori
Akio Ohtsuka
Bin Shimada
Chie Koujiro
Tsutomu Isobe
Ami Hasegawa
Kouichi Yamadera
Shigeru Chiba
Shozo Iizuka
Yoko Soumi

Music From:
Yôko Kanno
Jun Miyake
Hiroyuki Nagashima

Director of Photography:
Hiroaki Edamitsu

Editor:
Takeshi Seyama

Producer:
Shigeru Watanabe

Executive Producer:
Katsuhiro Ôtomo

Distributor:
All the Anime