Nobuhiko Obayashi's Anti-War Trilogy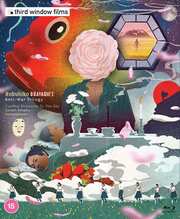 A limited edition 3 disc digipack bluray set of 3 films from legendary Japanese director Nobuhiko Obayashi.
Certificate: 15
Running Time: 500 mins
Retail Price: £59.99
Release Date: 2021
Content Type: Movie
Synopsis:
Disc 1:
Casting Blossoms to the Skyこの空の花 長岡花火物語 (2012)
Endo Reiko is a journalist visiting Nagaoka to comment on the aftermath of the earthquake in Tohoku. From local residents, Endo learns about the city's fireworks traditions, and how the region was destroyed during the war.


Disc 2:
Seven Weeks野のなななのか (2014)
Weaving the life of a 92-year-old doctor into the history of a small Hokkaido city, "Seven Weeks" addresses Japan's wartime responsibility, its present nuclear crisis and the heartaches of youth and love.

Disc 3:
Hanagatami 花筐 (2017)
In the spring of 1941, sixteen-year-old Toshihiko leaves Amsterdam to attend school in Karatsu, a small town on the western coast of Japan. Immersed in the seaside's nature and culture, Toshihiko soon befriends the town's other extraordinary adolescents as they all contend with the war's inescapable gravitational pull.
Special Features:
Interviews with Nobuhiko Obayashi
Making ofs
Digipack Limited edition set (2000 copies)
Includes booklet by historian Aaron Gerow

Video Tracks:
1.85:1 widescreen 1080p

Audio Tracks:
DTS-HD MA 5.1 Surround Japanese

Subtitle Tracks:
English

Directed By:
Nobuhiko Ôbayashi

Written By:
Nobuhiko Ôbayashi
Chiho Katsura
Kôji Hasegawa
Tadashi Naitô

Starring:
Shunsuke Kubozuka
Shinnosuke Mitsushima
Keishi Nagatsuka
Tokio Emoto
Honoka Miki
Hirona Yamazaki
Mugi Kadowaki
Takako Tokiwa
Takehiro Murata
Tetsuya Takeda
Yumi Adachi
Kazunari Aizawa
Akane
Toshiaki Chiku
Christine
Satoshi Hara
Natsuki Harada
Tokie Hidari
Yasuko Matsuyuki
Shiho Fujimura
Misako Renbutsu
Akira Emoto
Masahiro Takashima
Masayuki Yui

Music From:
Kôsuke Yamashita
Joe Hisaishi

Director of Photography:
Hisaki Sanbongi
Hisaki Mikimoto
Yûdai Katô

Editor:
Hisaki Sanbongi
Nobuhiko Ôbayashi
Hisaki Mikimoto

Costume Designer:
Koichi Fujisaki
Shigeru Moriwaki

Production Designer:
Toshiharu Aida

Producer:
Terumichi Yamazaki

Executive Producer:
Kyôko Ôbayashi
Chiga Watanabe

Distributor:
Third Window Films