The Lord of the Rings: The Motion Picture Trilogy (Extended Edition)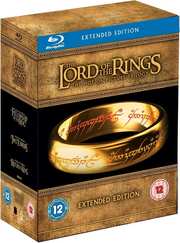 The three films on six Blu-rays, and nine DVDs of extra features.
Certificate: 12
Running Time: 727 mins
Retail Price: £119.99
Release Date: 2011
Content Type: Movie
Synopsis:
Finally for the first time all three extended editions of The Lord Of The Rings come alive in high definition Blu-ray! See the epic trilogy the way it was meant to be seen with the complete re-mastered box set containing The Fellowship Of The Ring The Two Towers and The Return Of The King!

The Lord of the Rings Trilogy tells the story of Frodo Baggins (Elijah Wood) a hobbit who battles against the Dark Lord Sauron to save his world Middle-earth from the grip of evil. In the films Frodo and his fellowship of friends and allies embark on a desperate journey to rid Middle-earth of the source of Sauron's greatest strength the One Ring -- a ring that has the power to enslave the inhabitants of Middle-earth.

The trilogy tells tales of extraordinary adventures across the treacherous landscape of Middle-earth and reveals how the power of friendship love and courage can hold the forces of darkness at bay.

The Lord Of The Rings - The Fellowship Of The Ring: In a time before history in a place called Middle-earth a dark and powerful lord has brought together the forces of evil to destroy its cultures and enslave all life caught in his path. Sauron's time has come and he needs only one small object - a Ring that has been lost for centuries - to snuff out the light of civilization and cover the world in darkness...

The Lord Of The Rings - The Two Towers: The fellowship is now divided with Aragorn (Viggo Mortensen) Legolas (Orlando Bloom) and Gimli (John-Rhys Davies) helping to restore some order to the land of King Theodon (Bernard Hill) whose mind has been poisoned by the machinations of Grima Wormtongue (Brad Dourif). Wormtongue is a secret emissary of wizard Saruman (Christopher Lee) now ready to unleash his army of the night on Middle-Earth. Meanwhile Frodo (Elijah Wood) is falling deeper under the dreaded influence of The Ring as he journeys with Sam (Sean Astin) towards Mordor...

The Lord Of The Rings - The Return Of The King: The remnants of the Fellowship marshal their forces for one final attack as Hobbits Sam (Astin) and Frodo (Wood) are led by Gollum to Mount Doom in the hope of destroying the One Ring forever...
Special Features:
Each film comes with 4 commentary tracks.
Documentaries and featurettes
Extensive Image Galleries
Multi-angle featurettes
Easter Eggs

Each film also gets a feature length behind the scenes documentary.

Video Tracks:
2.40:1 widescreen 1080p

Audio Tracks:
DTS-HD MA 6.1 Surround English

Subtitle Tracks:
English

Directed By:
Peter Jackson

Written By:
Peter Jackson
Philippa Boyens
Frances Walsh
J.R.R. Tolkien
Stephen Sinclair

Starring:
Elijah Wood
Hugo Weaving
Liv Tyler
Andy Serkis
John Rhys-Davies
Viggo Mortensen
Dominic Monaghan
Ian McKellen
Ian Holm
Bernard Hill
Billy Boyd
Orlando Bloom
Cate Blanchett
Sean Bean
Sean Astin

Casting By:
Ann Robinson
Liz Mullane
Amy MacLean
John Hubbard
Victoria Burrows

Music From:
Frances Walsh
Enya
Howard Shore
Annie Lennox
Emiliana Torrini

Director of Photography:
Andrew Lesnie

Editor:
Jamie Selkirk
Annie Collins
Michael Horton
Jabez Olssen
John Gilbert

Costume Designer:
Richard Taylor
Ngila Dickson

Production Designer:
Grant Major

Producer:
Frances Walsh
Jamie Selkirk
Rick Porras
Peter Jackson
Tim Sanders
Barrie M. Osborne
Ellen Somers

Executive Producer:
Harvey Weinstein
Bob Weinstein
Robert Shaye
Mark Ordesky
Michael Lynne

Distributor:
Entertainment In Video