Three Films With Sammo Hung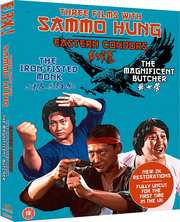 The Iron Fisted Monk, The Magnificent Butcher, Eastern Condors
Certificate: 18
Running Time: 301 mins
Retail Price: £32.99
Release Date: 2019
Content Type: Movie
Synopsis:
Presented here are three highlights from Sammo Hung s incredible career, showcasing his incredible skill and artistry both in front of, and behind the camera.

The Iron-Fisted Monk [1977] Sammo Hung s directorial debut, The Iron-Fisted Monk introduced many of the choreographic and editing techniques that would become commonplace in modern action cinema. A significantly darker and more violent film than audiences were used to, the film was originally cut when released on UK home video, but is presented here fully uncut for its worldwide Blu-ray debut from a brand new 2K restoration.

The Magnificent Butcher [1979] Directed by the legendary Yuen Woo-ping as a spiritual successor to his earlier smash hit, Drunken Master, The Magnificent Butcher stars Sammo as Butcher Lam Sai-wing, a pupil of Wong Fei-hung (the role Jackie Chan portrayed in Drunken Master, but here played by Kwan Tak-hing who played the legendary folk hero in over 70 films). When Lam is framed for murder by a rival clan, he must track down the real murderer and fight to clear his name. To be strong enough to have a chance of winning, he must train under the original Drunken Master, Beggar So! Presented from a brand new 2K restoration.

Eastern Condors [1987] Quite possibly Sammo s best film, this high-kicking tribute to The Dirty Dozen sees ten convicts offered amnesty if they undertake a deadly mission behind enemy lines in Vietnam to destroy a top-secret munitions dump. Presented here fully uncut for the first time ever in the UK, and from a brand new 2K restoration, this film is an absolute must-see!
Special Features:
The Iron-Fisted Monk - Fully Restored Cantonese mono track, with original sound effects reinserted after being absent from previous releases
The Magnificent Butcher Alternate Cantonese mono track featuring a unique mix and different music cues
Eastern Condors: The Export Version [94 mins] Presented in 2K, a shorter edit of the film released to international markets
Newly translated English subtitles (optional) for all three films
Brand new audio commentaries on Eastern Condors and The Magnificent Butcher by martial-arts cinema authority Mike Leeder and filmmaker Arne Venema
Brand new audio commentary on The Iron-Fisted Monk and Eastern Condors by Asian film expert Frank Djeng (NY Asian Film Festival)
Multiple interviews with Sammo Hung, talking about his work on each film
Interview with actor and stuntman Yuen Wah, talking about his work on Eastern Condors
Interview with Yuen Woo-ping, talking about his work on The Magnificent Butcher
Eastern Condors Live! a live performance from the 1987 Miss Hong Kong Pageant
Trailers for all three films
O-Card Slipcase
Limited Edition Collector s booklet [First Print Run of 2000 units ONLY] featuring new writing on all three films by James Oliver

Video Tracks:
2.35:1 widescreen 1080p

Audio Tracks:
PCM 1.0 Mono English
PCM 1.0 Mono Cantonese
PCM 2.0 Stereo English

Subtitle Tracks:
English

Directed By:
Sammo Hung Kam-Bo
Woo-ping Yuen

Written By:
Jing Wong

Starring:
Joyce Godenzi
Billy Chow
Charlie Ching
Kar Lok Chin
Kwok Keung Cheung
Lung Chan
Mars
Ching-Ying Lam
Sammo Hung Kam-Bo
Sing Chen
Ching-Ying Lam
Hark-On Fung
Mui Sang Fan
Fat Chung
Tak-Hing Kwan
Biao Yuen
Pai Wei
Hoi San Lee

Music From:
Frankie Chan

Producer:
Corey Yuen
Ma Wu
Raymond Chow
Jeffrey Lau
Leonard Ho

Distributor:
Eureka Entertainment