Eromanga Sensei Part 1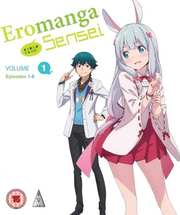 My little sister can't be this ero!
Certificate: 15
Running Time: 142 mins
Retail Price: £24.99
Release Date: 2019
Content Type: TV Series
Synopsis:
From the author of Oreimo comes a slapstick comedy about a novelist big brother and his illustrator younger sister along with a cast of charming characters!

Masamune Izumi is a high school student who professionally writes light novels. Sagiri Izumi is a shut-in who never leaves her room. One year ago, they became siblings when their parents married one another.

However, one day, Masamune discovers a shocking twist—the artist "Eromanga Sensei," who has been drawing illustrations for his novels, is none other than Sagiri. His cute little shut-in of a sister, who has been living under his roof, is using an obscene pen name and drawing lewd illustrations. But there's no way his little sister could be this dirty?!
Special Features:
Web Previews
Trailers and Commercials
Textless Credits
Trailers

Video Tracks:
1.78:1 widescreen 1080p

Audio Tracks:
PCM 2.0 Stereo Japanese

Subtitle Tracks:
English

Directed By:
Ryohei Takeshita

Written By:
Tatsuya Takahashi
Tsukasa Fushimi

Starring:
Akane Fujita
Yoshitsugu Matsuoka
Ibuki Kido
Mikako Komatsu
Minami Takahashi
Nobunaga Shimazaki
Saori Onishi
Yui Ishikawa

Music From:
Tomoki Kikuya

Director of Photography:
Toshiaki Aoshima

Editor:
Kentarou Tsubone

Producer:
Kazuma Miki
Kozue Kananiwa
Noriko Kosukegawa
Shinitirou Kashiwada
Shoki Niwa
Tomoyuki Ohwada

Distributor:
MVM