Akira (2016 reissue)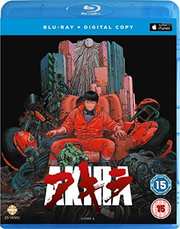 Neo-Tokyo is about to E.X.P.L.O.D.E.
Certificate: 15
Running Time: 124 mins
Retail Price: £19.99
Release Date: 2017
Content Type: Movie
Synopsis:
Iconic and game-changing, Akira is the definitive anime masterpiece! Katsuhiro Otomo's landmark cyberpunk classic obliterated the boundaries of Japanese animation and forced the world to look into the future. Akira's arrival shattered traditional thinking, creating space for movies like The Matrix to be dreamed into brutal reality.

Neo-Tokyo, 2019. The city is being rebuilt post World War III when two high school drop outs, Kaneda and Tetsuo stumble across a secret government project to develop a new weapon - telekinetic humans. After Tetsuo is captured by the military and experimented on, he gains psychic abilities and learns about the existence of the project's most powerful subject, Akira. Both dangerous and destructive, Kaneda must take it upon himself to stop both Tetsuo and Akira before things get out of control and the city is destroyed once again.

This new version of AKIRA Blu-ray features both the original 1988 Streamline English dub and the 2001 Pioneer/Animaze English dub as well as the original Japanese dub (with English subtitles).
Special Features:
Akira Sound Clip (1988) Music for Akira
Director Interview (subtitled)
Storyboard Collection
The Writing on the Wall
Original Trailers (subtitled)
Original Commercials (subtitled)
Restoring Akira
Glossary
U.S. 2013 Trailer
Trailers

Video Tracks:
1080p 1.85:1 widescreen

Audio Tracks:
Dolby TrueHD 5.1 Japanese
Dolby TrueHD 5.1 English
Dolby TrueHD 2.0 Stereo English

Subtitle Tracks:
English

Directed By:
Katsuhiro Otomo

Written By:
Katsuhiro Otomo
Izo Hashimoto

Starring:
Hiroshi Otake
Tessho Genda
Mami Koyama
Nozomu Sasaki
Mitsuo Iwata

Soundtrack By:
Shoji Yamashiro

Director of Photography:
Katsuji Misawa

Editor:
Takeshi Seyama

Production Designer:
Koji Ono
Yuji Ikehata
Kuzuo Ebisawa

Producer:
Ryohei Suzuki
Yoshimasa Mizuo
Shunzo Kato

Executive Producer:
Sawako Noma

Distributor:
Manga Entertainment