K: Missing Kings (Movie)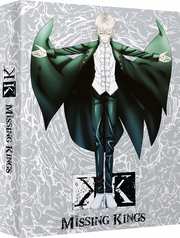 AKA Gekijouban K: Missing Kings
Certificate: 12
Running Time:
Retail Price: £34.99
Release Date: 5/10/2018
Content Type: Movie
Synopsis:
A year after the events of K and its climatic battle, the Silver King Shiro is still missing and his whereabouts unknown in spite of the best efforts of Neko and Kuro to track him down. The movements of these loyal servants hasn't gone unnoticed however, leading to a run-in with members of rival clans that reignites tensions and power struggles between various factions.

When a member of the now-disbanded Red Clan, Anna Kushina, is taken prisoner, the best opportunity for Shiro to be tracked down by Anna's impressive powers is lost. Thus, unlikely allegiances are formed between the Red and Silver clans to combat the new threats which face them both. Will this unexpected alliance be enough to counter the Green Clan's top fighters, as well as its king? All will be revealed in animation studio GoHands' eye-popping K: Missing Kings

Contains the film on Blu-Ray and DVD with both the English dub and the original Japanese track with English subtitles. Presented in Collectors packaging.
Special Features:
Film on Blu-Ray and DVD
Collectors Packaging
Art Cards
Poster

Video Tracks:
MPEG-4 AVC 1080p 16:9

Audio Tracks:
Japanese 5.1 DTS
English 5.1 DTS

Subtitle Tracks:
English

Directed By:
Shingo Suzuki

Starring:
Daisuke Namikawa
Daisuke Ono
Tomokazu Sugita

Casting By:
Jamie Simone

Soundtrack By:
Mikio Endo

Editor:
Ayako Tan

Producer:
Jamie Simone

Distributor:
All the Anime