Buster Keaton: 3 Films (Sherlock Jr., The General, Steamboat Bill, Jr.) [Masters of Cinema]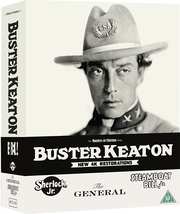 Certificate: U
Running Time: 191 Mins
Retail Price: £28.99
Release Date: 20/11/2017
Content Type: Movie
Synopsis:
Between 1920 and 1929, Buster Keaton created a peerless run of feature films that established him as "arguably the greatest actor-director in the history of the movies". Collected here are three key films from that era; Sherlock Jr., The General and Steamboat Bill, Jr. Together they represent a true master at his peak, and The Masters of Cinema Series is proud to present all three films here on Blu-ray for the first time in the UK, from stunning new 4K restorations.

Sherlock Jr. (1924) (dir. Buster Keaton) – A film projectionist (and amateur detective) offers to solve the case of a missing watch, but is instead framed for the crime himself. Desperate to clear his name, the projectionist dreams of being the great Sherlock Jr., and in one of cinemas most iconic sequences, literally steps into the screen to bring his fantasies to life.

The General (1926) (dir. Clyde Bruckman, Buster Keaton) – When union spies steal his locomotive (along with his girlfriend), a plucky railway engineer pursues them doggedly across enemy lines. Containing one of the most memorable chase sequences in the history of filmmaking, The General is widely considered to be Keaton's masterpiece.

Steamboat Bill, Jr. (1928) (dir. Charles Reisner) – A steamboat captain receives a telegram informing him that his son who he has not seen for many years will be coming to visit. Eagerly expecting a strapping young lad who will help him compete with his arch-rival, he is disappointed with the effete progeny that instead shows up. Best remembered for its climactic cyclone sequence in which Keaton performs a number of death-defying stunts whilst an entire town is destroyed around him, Steamboat Bill, Jr. was Buster Keaton's last independent silent comedy and also one of his finest.
Special Features:
1080p presentations of all three films from stunning new 4K restorations

Audio commentary on Sherlock Jr. by film historian David Kalat

A new video interview with film scholar Peter Kramer discussing The General

Buster Keaton: The Genius Destroyed by Hollywood (52 mins) - A new documentary on Keaton and his struggles working within the Hollywood studio system

Buster Keaton on Wagon Train (58 mins) - an audio recording of a then 63 year old Buster Keaton in conversation with television writer Bill Cox.

Sherlock Jr. - Original Music Score by Timothy Brock
Sherlock Jr. - Tour of Filming Locations featurette
Sherlock Jr. - Movie Magic & Mysteries featurette

The General - Original Music Score by Carl Davis
The General - Tour of Filming Locations featurette
The General - Video Tour featurette
The General - Home Movie Footage
The General - Introduction by Orson Welles
The General - Introduction by Gloria Swanson

Steamboat Bill, Jr - Original Music Score by Carl Davis
Steamboat Bill, Jr. - A video essay on the making of the film

PLUS: A 60-PAGE BOOK featuring a new essay by Philip Kemp; notes on each film; archival writings; Keaton Family Scrapbook, a selection of Keaton family photographs generously supplied by friends of the Keaton family and a stunning array of archival images

Related Websites:
https://www.eurekavideo.co.uk/moc/buster-keaton-sherlock-jr-general-and-steamboat-bill-jr

Directed By:
Buster Keaton
Charles Reisner
Clyde Bruckman

Distributor:
Eureka Entertainment Ltd