Belle De Jour - The 50th Anniversary Edition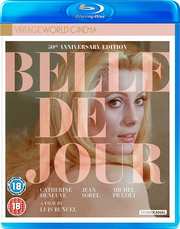 Certificate: 18
Running Time: 100 Mins
Retail Price:
Release Date: 02/10/2017
Content Type: Movie
Synopsis:
STUDIOCANAL is proud to announce the release of the newly restored 4k version of Luis Buñuel's highly celebrated exploration of female desire, BELLE DE JOUR. Starring Catherine Deneuve, Jean Sorel and Michel Piccoli, this groundbreaking surrealist film was Buñuel's most successful of his career and won the Golden Lion at the Venice Film Festival in 1967.

Séverine (Catherine Deneuve, The Umbrellas of Cherbourg, Dancer in the Dark), the very reserved wife of Pierre (Jean Sorel, The Day of the Jackal), is prone to masochistic fantasies which reveal her sexual frustration. Driven by curiosity, she secretly pays a visit to a brothel
and, unknown to her husband, soon becomes "Beauty of the Day", the third girl in Madame Anaïs' discreet house of ill-repute. Seemingly having found an inner peace through the satisfaction of her clients' desires, things soon turn sour when Marcel (Michel Piccoli, Le Doulos,  a loutish regular visitor to the bordello, insists on having Séverine all to himself.

Panic-stricken, Séverine quits her dangerous day job but is it too late?
Special Features:
- Commentary by professor Peter W. Evans
- The Last Script
- A Story of Perversion or Emancipation? - Interview with Dr Sylvain Mimoun
- New Trailer
- New Jean-Claude Carrière interview
- New Masterclass with Diego Buñuel and Jean-Claude Carrière

Video Tracks:
1.66 : 1 Colour

Audio Tracks:
English 2.0 Stereo
French 2.0 Stereo

Subtitle Tracks:
English

Directed By:
Luis Buñuel

Written By:
Joseph Kessel (novel)
Luis Buñuel
Jean-Claude Carrière

Starring:
Catherine Deneuve
Jean Sorel
Michel Piccoli

Director of Photography:
Sacha Vierny

Editor:
Louisette Hautecoeur

Costume Designer:
Hélène Nourry

Production Designer:
Robert Clavel

Producer:
Raymond Hakim
Robert Hakim

Distributor:
StudioCanal