Mobile Suit Gundam Movie Trilogy Box Set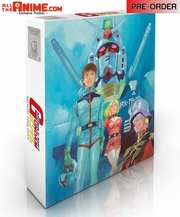 Certificate: 12
Running Time:
Retail Price: £34.99
Release Date: 27/03/2017
Content Type: Movie
Synopsis:
For the first-time ever in the United Kingdom, the Mobile Suit Gundam Movie Trilogy comes to Blu-ray!

This set contains all three films contains both Japanese 2.0 and "Special Edition" 5.1 audio options for each film, with English subtitles.

Synopsis: "Universal Century 0079. Amuro Ray finds himself caught up in the war between the Earth Federation and the Principality of Zeon. He unwillingly becomes the pilot of a prototype Mobile Suit called the Gundam.

Now he and the crew of the White Base will haver to fight for their very lives as the enemy attempts to destroy this new weapon at all costs.

Combatants will face triumph and turmoil as they battle their way through space to get to their final destination on Earth. The outcome of the war lies in the hands of the Newtype in the anime series that started it all."
Special Features:


Video Tracks:
4:3 pillar-boxed 1080p

Audio Tracks:
Japanese 2.0 & 5.1 Dolby

Subtitle Tracks:
English

Directed By:
Yoshiyuki Tomino

Written By:
Hajime Yatate
Yoshiyuki Tomino

Starring:
Shuuichi Ikeda
Tohru Furuya
Hirotaka Suzuoki
Kaneto Shiozawa
Katsuji Mori
Keiko Toda
Kiyonobu Suzuki
Masashi Hirose
Rumiko Ukai
Shozo Iizuka
Toshio Furukawa
You Inoue
Brad Swaile
Michael Kopsa
Alaina Burnett
Brian Dobson
Cathy Weseluck
Chris Kalhoon
John Payne
Kristie Marsden
Lenore Zann
Matt Smith
Richard Cox
Ward Perry

Music From:
Takeo Watanabe
Yuji Matsuyama

Editor:
Tomoaki Tsurubuchi

Producer:
Hobuyuki Okuma
Wataru Sekioka
Yasuo Shibue

Distributor:
alltheanime