4 Film Favorites: Intergalactic Films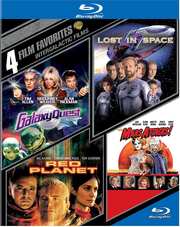 Houston, We Have Adventure!
Certificate: PG-13
Running Time: 445 mins
Retail Price: $24.98
Release Date: 2014
Content Type: Movie
Synopsis:
Galaxy Quest - Twenty years after cancellation, the stars of the Galaxy Quest television series cling to their careers appearing at sci-fi conventions and electronic store openings. When a distressed interstellar race mistakes the show for "historical documents" Jason Nesmith (Tim Allen) and his crew of has-beens are unwittingly recruited to save them from a genocidal warlord. A hilarious adventure that boldly goes where no comedy has gone before.

Lost In Space - The family Robinson is in hiber-sleep, soaring into deep space. Their mission: establish a colony that will become home for a dying Earth's inhabitants. But sabotage jolts the Robinsons awake, sending them - and an often troublesome robot - off course and into amazing adventures where the question is not just where they are, but also when. A fine cast sets just the right tone of heroism and fun in an imaginative sci-fi voyage based on the '60s TV series. "Danger, Will Robinson!" And amazement, too.

Red Planet - In the mid-21st century, the nations of a dying Earth look starward for a solution and set out to colonize Mars. But something no on could have expected awaits. Val Kilmer stars in this taut adventure about humankind's first mission to the mysterious Red Planet. Also on the mission is the multifunctional robo-assistant AMEE. A malfunction has turned her into a killing machine bent on destroying the crew. Yet that's not the end of the expedition's perils. Because Mars may be barren, but it's not uninhabited.

Mars Attacks - AWAKE EARTHLINGS! Don't miss the hilarious frenzy as Tim Burton directs - and Mars Attacks! SEE! Stars that shine across the galaxy. Jack Nicholson, Glenn Close, Annette Bening, Pierce Brosnan, Danny DeVito and a dozen more! SHRIEK! At mean, green invaders armed with insta-fry ray guns and endowed with slimy, humongous brain. GASP! As the U.S. legislature is overwhelmed. (Don't fear, we still have 2 out of 3 branches of the government working for us.) THRILL! As Earth fights back with an unexpected weapon. Take that, Martians!
Special Features:
Galaxy Quest

Galactopedia
Featurettes
Deleted Scenes
Thermian Audio Track
Theatrical Trailer

Lost in Space

Commentaries
Featurettes
Music Video
Deleted Scenes
Theatrical Trailer

Red Planet

Trailer
Deleted Scenes

Video Tracks:
2.40:1 widescreen 1080p

Audio Tracks:
Dolby TrueHD 5.1 Surround English
Dolby Digital 5.1 Surround Spanish
Dolby Digital 2.0 Stereo Thermian
Dolby Digital 5.1 Surround French
Dolby Digital 5.1 Surround German
Dolby Digital 5.1 Surround Italian
Dolby Digital 2.0 Stereo Czech
Dolby Digital 2.0 Stereo Thai
DTS-HD MA 5.1 Surround English
Dolby Digital 2.0 Stereo Spanish
Dolby Digital 2.0 Stereo Portuguese

Subtitle Tracks:
English
Spanish
French
Portuguese
German
Italian
Dutch
Japanese
Korean
Czech
Danish
Finnish
Greek
Norwegian
Romanian
Swedish
Thai
Chinese

Directed By:
Dean Parisot
Antony Hoffman
Tim Burton
Stephen Hopkins

Written By:
Robert Gordon
David Howard
Jonathan Lemkin
Chuck Pfarrer
Jonathan Gems
Norm Saunders
Bob Powell
Wally Wood
Woody Gelman
Len Brown
Akiva Goldsman
Irwin Allen

Starring:
Sam Rockwell
Tony Shalhoub
Alan Rickman
Sigourney Weaver
Tim Allen
Terence Stamp
Simon Baker
Tom Sizemore
Benjamin Bratt
Carrie-Anne Moss
Val Kilmer
Rod Steiger
Michael J. Fox
Sarah Jessica Parker
Martin Short
Danny DeVito
Pierce Brosnan
Annette Bening
Glenn Close
Jack Nicholson
Jack Johnson
Matt LeBlanc
Gary Oldman
Lacey Chabert
Heather Graham
Mimi Rogers
William Hurt

Casting By:
Debra Zane
Lora Kennedy
Victoria Thomas
Jeanne McCarthy
Matthew Barry
Mary Selway
Mike Fenton
Allison Cowitt

Soundtrack By:
David Newman
Graeme Revell
Danny Elfman
Bruce Broughton

Director of Photography:
Jerzy Zielinski
Peter Suschitzky

Editor:
Don Zimmerman
Dallas Puett
Robert K. Lambert
Chris Lebenzon
Ray Lovejoy

Costume Designer:
Albert Wolsky
Kym Barrett
Colleen Atwood
Robert Bell
Gilly Hebden
Vin Burnham

Production Designer:
Linda DeScenna
Owen Paterson
Wynn Thomas
Norman Garwood

Producer:
Charles Newirth
Mark Johnson
Sona Gourgouris
Suzann Ellis
Allegra Clegg
Jorge Saralegui
Stephen Jones
Mark Canton
Bruce Berman
Mark S. Miller
Larry J. Franco
Paul Deason
Tim Burton
Kris Wiseman McIntyre
Hugo Sands
Julie Pye
Rupert Porter
Sharon Lark
Mark W. Koch
Stephen Hopkins
Tim Hampton
Akiva Goldsman
Carla Fry
Alan Church
Chris Carreras

Executive Producer:
Elizabeth Cantillon
Charles J.D. Schlissel
Chuck Pfarrer
Andrew Mason
Richard Saperstein
Robert Rehme
Mace Neufeld
Michael Ilitch Jr.
Michael De Luca
Colin Brown

Distributor:
Warner Bros