Man with a Movie Camera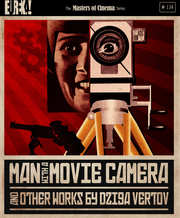 Certificate: E
Running Time: 69 Mins
Retail Price: £29.99
Release Date: 18/04/2016
Content Type: Movie
Synopsis:
Voted one of the ten best films ever made in the Sight & Sound 2012 poll, and the best documentary ever in a subsequent poll in 2014, Man With A Movie Camera (Chelovek s kinoapparatom) stands as one of cinema's most essential documents - a dazzling exploration of the possibilities of image-making as related to the everyday world around us.

The culmination of a decade of experiments to render "the chaos of visual phenomena filling the universe", Dziga Vertov's masterwork uses a staggering array of cinematic devices to capture the city at work and at play, as well as the machines that power it.

Presented in a definitive new restoration from EYE Film Institute in Amsterdam and Lobster Films, the film is also presented with other works by Vertov, both before and after his masterpiece - Kino-Eye (1924), Kino-Pravda #21 (1925), Enthusiasm: Symphony of the Donbass (1931) and Three Songs About Lenin (1934) - in this limited-edition 4-Disc Dual-Format edition.
Special Features:
• Limited-edition 4-Disc Dual-Format
• New high-definition restored transfers of all five films
• Uncompressed PCM audio on all films
• Scores by The Alloy Orchestra for Man With A Movie Camera and Robert Israel for Kino-Eye
• New audio commentary on Man With A Movie Camera by film scholar Adrian Martin
• The Life and Times of Dziga Vertov, an exclusive, lengthy video interview with film scholar Ian Christie on Vertov's career and the films in this set
• 100-page limited edition book featuring the words of Dziga Vertov, archival imagery and more!

Video Tracks:
1.33:1 OAR Black & White

Subtitle Tracks:
English

Directed By:
Dziga Vertov

Written By:
Dziga Vertov

Starring:
Mikhail Kaufman

Soundtrack By:
Michael Nyman (2002)

Director of Photography:
Mikhail Kaufman
Gleb Troyanski

Editor:
Dziga Vertov

Distributor:
Eureka! The Masters of Cinema