Mobile Suit Gundam - Part 2 of 2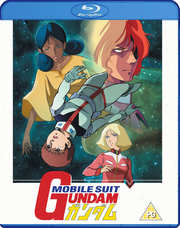 The original classic that spawned an anime legacy!
Certificate: PG
Running Time: 541 mins
Retail Price: £59.99
Release Date: 2016
Content Type: TV Series
Synopsis:
It is the year Universal Century 0079 and the space colonies have declared war on from the Earth Federation under the guidance of the Principality of Zeon. In one of these colonies, the Earth Federation is storing and testing a new piloted robot for use in the battle against the Principality of Zeon.

Now embroiled in the war Amuro Ray, pilot of the RX-78 battle suit called "Gundam", must fight against Char Aznable to protect everything he and his friends hold dear.

Contains the conclusion to the iconic series (Episodes 22-41) in both English dub and Japanese with English subtitles.
Special Features:
30th Anniversary Interview with Staff
Collector's Artbook with First Run Edition

Video Tracks:
4:3 pillarboxed 1080p

Audio Tracks:
PCM 2.0 English
PCM 2.0 Japanese

Subtitle Tracks:
English

Directed By:
Yoshiyuki Tomino

Written By:
Hajime Yatate
Yoshiyuki Tomino

Starring:
Shuuichi Ikeda
Tohru Furuya
Hirotaka Suzuoki
Kaneto Shiozawa
Katsuji Mori
Keiko Toda
Kiyonobu Suzuki
Masashi Hirose
Rumiko Ukai
Shozo Iizuka
Toshio Furukawa
You Inoue
Brad Swaile
Michael Kopsa
Alaina Burnett
Brian Dobson
Cathy Weseluck
Chris Kalhoon
John Payne
Kristie Marsden
Lenore Zann
Matt Smith
Richard Cox
Ward Perry

Music From:
Takeo Watanabe
Yuji Matsuyama

Director of Photography:
Akio Saitô
Takafumi Hirata

Editor:
Tomoaki Tsurubuchi

Producer:
Hobuyuki Okuma
Wataru Sekioka
Yasuo Shibue

Distributor:
All the Anime