Deep Red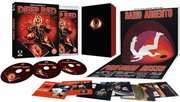 aka Profondo Rosso and The Hatchet Murders
Certificate: 18
Running Time: 127 Mins
Retail Price:
Release Date: 25/01/16
Content Type: Movie
Synopsis:
When was the last time you were really scared? From Dario Argento, maestro of the macabre and the man behind some the greatest excursions in Italian horror (Suspiria, The Bird with the Crystal Plumage), Arrow Video is thrilled to announce the release of his iconic film Deep Red, considered by many as the ultimate giallo movie. Limited to 5,000 copies, this exclusive 3-disc release offers up a stunning new 4k transfer of both the international cut (105 mins) and the director's cut (127 mins).

This new release will also include a wealth of bonus content, alongside the complete 28-track original soundtrack recording, housed together in deluxe packaging including an all-new exclusive booklet, 6 x postcard set and feature newly commissioned artwork by Gilles Vranckx.

One night, musician Marcus Daly (David Hemmings, Blow Up), looking up from the street below, witnesses the brutal axe murder of a woman in her apartment. Racing to the scene, Marcus just manages to miss the perpetrator… or does he? As he takes on the role of amateur sleuth, Marcus finds himself ensnared in a bizarre web of murder and mystery where nothing is what it seems…

Aided by a throbbing score from regular Argento-collaborators Goblin, Deep Red (aka Profondo Rosso and The Hatchet Murders) is a hallucinatory fever dream of a giallo punctuated by some of the most astonishing set-pieces the sub-genre has to offer.
Special Features:
3-DISC LIMITED EDITION CONTENTS

• High Definition Blu-ray (1080p) presentation of two versions of the film
• Original Italian soundtrack in DTS-HD MA mono 1.0 and lossless DTS-HD MA 5.1 audio, and original English soundtrack in DTS-HD MA mono 1.0*
• English subtitles for the Italian Soundtrack
• Optional English subtitles for the English Soundtrack
• Limited Edition Soundtrack CD
• 6 x postcard-sized lobby card reproductions
• Reversible fold-out poster featuring two original artworks
• Reversible sleeve featuring original and newly commissioned artwork by Gilles Vranckx
• Limited Edition booklet featuring new writing on the film by Mikel J. Koven, author of La Dolce Morte: Vernacular Cinema and the Italian Giallo Film and an archive piece by critic Alan Jones, illustrated with original archive stills

DEEP RED: ORIGINAL VERSION (BLU-RAY DISC 1)

• Brand new restoration from a 4K scan of the original negative
• Isolated Score in Stereo 2.0
• Audio Commentary with Argento expert Thomas Rostock
• Introduction to the film by Claudio Simonetti of Goblin
• Profondo Giallo – a brand new visual essay by Michael Mackenzie featuring an in-depth appreciation of Deep Red, its themes and its legacy
• Rosso Recollections: Dario Argento's Deep Genius – the Deep Red director on the creation of a giallo masterpiece
• The Lady in Red: Daria Nicolodi Remembers Profondo Rosso
• Music to Murder For! Claudio Simonetti on Deep Red
• Profondo Rosso: From Celluloid to Shop – a tour of the Profondo Rosso shop in Rome with long time Argento collaborator Luigi Cozzi
• Italian Trailer

DEEP RED: EXPORT VERSION (BLU-RAY DISC 2) [LIMITED EDITION EXCLUSIVE]

• Brand new restoration from a 4K scan of the original negative
• US Theatrical Trailer

PROFONDO ROSSO: THE COMPLETE ORIGINAL SOUNDTRACK RECORDING (CD DISC 3) [LIMITED EDITION EXCLUSIVE]

• 28-track CD featuring the entire Deep Red film score from Italian progressive rock band Goblin and composer Giorgio Gaslini

Audio Tracks:
English mono 1.0
Italian mono 1.0

Subtitle Tracks:
English

Directed By:
Dario Argento

Written By:
Dario Argento
Bernardino Zapponi (screenplay)

Starring:
David Hemmings
Daria Nicolodi
Gabriele Lavia

Music From:
Giorgio Gaslini
Goblin

Director of Photography:
Luigi Kuveiller

Editor:
Franco Fraticelli

Costume Designer:
Elena Mannini

Production Designer:
Giuseppe Bassan

Producer:
Salvatore Argento

Executive Producer:
Claudio Argento

Distributor:
Arrow Video