Full Metal Panic - Ultimate Edition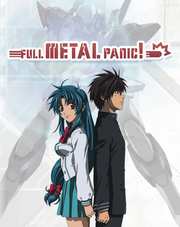 A fumoffu sized serving of Full Metal Pandemonium
Certificate: 15
Running Time: 1143 mins
Retail Price: £149.99
Release Date: 2015
Content Type: TV Series
Synopsis:
Kaname Chidori's one of the most popular girls at her high school - unfortunately, it's her growing popularity off campus she should be worrying about. Unbeknownst to Kaname, terrorists are plotting her abduction, believing she possesses the rare and coveted abilities of "the Whispered."

That's where Sousuke Sagara enters the picture. He's a hotshot soldier from the clandestine counter-terrorist organization known as Mithril - and he's going undercover at Kaname's school to try and keep her safe. He may be an ace in the cockpit of an Arm Slave mech, but there's no training in the world that could prepare him for the warzone of high school...

Contains all seasons including the never before released in the UK third season The Second Raid . With Japanese with English subtitles and English dub.
Special Features:
Full Metal Panic

Kouichi Chigira x Shouji Gatou Special Interview
Japanese Piracy Warnings
Original TV Spots
Textless Credits
Trailers

Full Metal Panic? Fumoffu

Original Japanese TV Spots
Textless Credits
Trailers

Full Metal Panic: The Second Raid

Dawn of the Light Novel
Location Scouting in Hong Kong
Textless Credits
Trailers
Bonus Episode 000
Bonus OVA

Video Tracks:
1.78:1 widescreen 1080p

Audio Tracks:
Dolby TrueHD 5.1 Surround English
Dolby TrueHD 2.0 Stereo Japanese
Dolby TrueHD 5.1 Surround Japanese (TSR only)

Subtitle Tracks:
English

Directed By:
Koichi Chigira
Yasuhiro Takemoto

Written By:
Fumihiko Shimo
Koichi Chigira
Masashi Sogo
Shoji Gatoh

Starring:
Satsuki Yukino
Tomokazu Seki
Akio Ohtsuka
Ikue Kimura
Mamiko Noto
Masahiko Tanaka
Michiko Neya
Shinichiro Miki
Tomomichi Nishimura
Yukana
Chris Patton
Luci Christian
Allison Keith
Andy McAvin
Greg Ayres
Hilary Haag
Mike Kleinhenz
Mike MacRae
Monica Rial
Vic Mignogna
Daisuke Namikawa
Emi Shinohara
Houchu Ohtsuka
Miyuki Sawashiro
Rikiya Koyama
Blake Shepard
Christine Auten
James Reed Faulkner
John Swasey
Kira Vincent-Davis
Tomoko Kaneda
Akiko Hiramatsu
Jun Fukuyama
Rie Tanaka
Tiffany Grant
Chris Ayres
Kaytha Coker
Nancy Novotny

Music From:
Toshihiko Sahashi

Director of Photography:
Susumu Fukushi
Ryuuta Nakagami

Editor:
Kengo Shigemura
Seiji Morita

Producer:
Toshihito Suzuki
Hiroshi Ogawa
Masafumi Fukui
Michio Suzuki
Nobuhiko Sakoh
Shigeaki Tomioka
Takatoshi Hamano
Takeshi Yasuda
Toshio Hatanaka
Tsuneo Takechi

Distributor:
All the Anime