Tenderness of the Wolves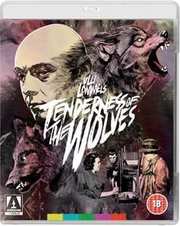 Die Zärtlichkeit der Wölfe
Certificate: 18
Running Time: 86 Minutes
Retail Price:
Release Date: 02/11/2015
Content Type: Movie
Synopsis:
Arrow Video is pleased to announce the release of an almost-forgotten German serial killer drama, based on the true story of Fritz Haarmann aka the Butcher of Hanover and the Vampire of Hanover. Produced by Rainer Werner Fassbinder, directed by Ulli Lommel (The Boogeyman) and featuring a remarkable central performance by Kurt Raab, Tenderness of the Wolves will be released as a dual-format Blu-ray and DVD edition on November 2nd.

Restored by the Rainer Werner Fassbinder Foundation, Tenderness of the Wolves is accompanied by a wealth of new special features, each recorded especially for this release. Ulli Lommel contributes a commentary, introduction and lengthy chat about the film's making. Cinematographer Jürgen Jürges granted an extremely rare interview to fondly recall his superb work. And actor Rainer Will, who plays one of Haarmann's young victims, remembers his time on set as a 17-year-old.

Also present is genre authority Stephen Thrower, author of Nightmare USA and Murderous Passions: The Delirious Cinema of Jesús Franco, who provides an exhaustive account of Tenderness of the Wolves' creation and reception. Rounding off the package are a stills gallery containing rare lobby cards, the German theatrical trailer (also presented in high definition) and a booklet containing new writing by Tony Rayns. The package will also contain a reversible sleeve featuring the original poster and newly commissioned artwork by the Twins of Evil.
Special Features:
• New high definition digital transfer prepared by the Rainer Werner Fassbinder Foundation
• High Definition (1080p) Blu-ray and Standard Definition DVD presentations
• Original uncompressed PCM mono 1.0 sound • Newly translated optional English subtitles
• Audio commentary by director Ulli Lommel, moderated by Uwe Huber
• Introduction by Lommel
• The Tender Wolf, a newly-filmed interview with Lommel
• Photographing Fritz, a newly-filmed interview with director of photography Jürgen Jürges
• Haarmann's Victim Talks, a newly-filmed interview with actor Rainer Will
• An appreciation by Stephen Thrower, author of Nightmare USA and Murderous Passions: The Delirious Cinema of Jesús Franco
• Stills gallery
• Theatrical trailer
• Reversible sleeve featuring original and newly commissioned artwork by the Twins of Evil
• Illustrated collector's booklet featuring new writing on the film by Tony Rayns, editor of the first English-language book on Rainer Werner Fassbinder

Video Tracks:
1.78:1 Colour

Audio Tracks:
1.0 Mono German

Subtitle Tracks:
English

Directed By:
Ulli Lommel

Written By:
Kurt Raab

Starring:
Kurt Raab
Jeff Roden
Margit Carstensen
Ingrid Caven

Soundtrack By:
Peer Raben

Director of Photography:
Jürgen Jürges

Editor:
Thea Eymèsz
Rainer Werner Fassbinder

Production Designer:
Kurt Raab

Executive Producer:
Rainer Werner Fassbinder

Distributor:
Arrow