Jonathan Strange & Mr. Norrell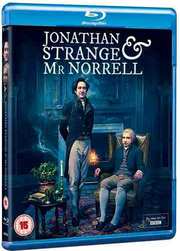 Certificate: 15
Running Time: 413 minutes
Retail Price: £27.99
Release Date: 29/06/2015
Content Type: TV Series
Synopsis:
IT'S ONE of the BBC's most ambitious and bold productions to date, a major new adaptation of Susanna Clarke's acclaimed novel, Jonathan Strange & Mr Norrell, and following its hugely anticipated, seven week run on BBC One which began last night, it makes its DVD & Blu-ray bow on 29 June 2015 courtesy of RLJ Entertainment's Acorn Label.

Featuring a slew of great British acting talent with Bertie Carvel (Coalition) and Eddie Marsan (Sherlock Holmes) as the eponymous magicians, alongside Marc Warren (Mad Dogs), Paul Kaye (Game of Thrones) and Alice Englert (New Worlds), Jonathan Strange & Mr
Norrell features mind-blowing magic and stunning effects like never seen before on the small screen.

The year is 1806. England is beleaguered by the long war with Napoleon, and centuries have passed since practical magicians
became the stuff of legend. But scholars of this glorious history discover that one remains: the reclusive Mr. Norrell (Marsan), whose displays of magic send a thrill through the country.

Proceeding to London, he raises a beautiful woman from the dead and summons an army of ghostly ships to terrify the French. Yet the cautious, fussy Norrell is challenged by the emergence of
another magician: the brilliant novice Jonathan Strange (Carvel). Young, handsome and daring, Strange is the very antithesis of Norrell.

So begins a dangerous battle between the two great men. Their obsessions and secret dabblings with the dark arts will cause greater trouble than they can ever imagine. With its brilliant drama, stunning period sets, and amazing supernatural events Jonathan Strange & Mr Norrell is truly magical.
Special Features:
Behind the Scenes Footage

Directed By:
Toby Haynes

Written By:
Susanna Clarke ... Novel Peter Harness ... Teleplay

Starring:
Bertie Carvel
Eddie Marsan
Marc Warren
Alice Englert
Paul Kaye

Casting By:
Kate Rhodes James

Soundtrack By:
Benoît Charest
Benoît Groulx

Director of Photography:
Stephan Pehrsson

Editor:
Peter Christelis
Philip Kloss

Production Designer:
Freddy Evard
David Roger

Distributor:
Acorn Media