The Flying Deuces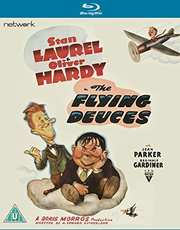 HERE'S HYSTERICAL HISTORY!
Certificate: U
Running Time: 69 mins
Retail Price: £15.99
Release Date: 2015
Content Type: Movie
Synopsis:
This classic comedy caper sees Laurel and Hardy doing what they do best... in this case, wreaking havoc in the French Foreign Legion!

Released in 1939, co-scripted by silent-era star Harry Langdon and featuring a guest appearance from long-standing Laurel and Hardy nemesis James Finlayson, The Flying Deuces is among the eternally popular duo's best-loved films. Restored in High Definition, the film is presented here in its as-exhibited theatrical aspect ratio and has never looked better.

Whilst holidaying in Paris, Ollie is heartbroken to learn that Georgette, the beautiful innkeeper's daughter with whom he has fallen in love, is already married. In an attempt to forget her, he decides to enlist in the Foreign Legion, persuading Stanley to join him. The hapless pair are posted to Morocco, where an unfortunate chain of events ends with them being charged with desertion and sentenced to death by firing squad!
Special Features:
German version: Dick und Doof in der Fremdenlegion
Image Gallery
Promotional Material PDF

Video Tracks:
4:3 pillarboxed 1080p monochrome

Audio Tracks:
PCM 2.0 mono English

Subtitle Tracks:
English

Directed By:
A. Edward Sutherland

Written By:
Ralph Spence
Charley Rogers
Fred Schiller
Harry Langdon

Starring:
Stan Laurel
Oliver Hardy
Jean Parker
Reginald Gardiner
Charles Middleton
Jean Del Val
Crane Whitley
James Finlayson

Music From:
John Leipold
Leo Shuken

Director of Photography:
Art Lloyd

Editor:
Jack Dennis

Producer:
Boris Morros

Distributor:
Network