The Hound of the Baskervilles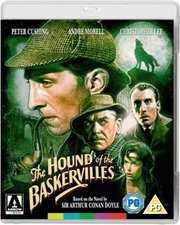 Certificate: PG
Running Time: 87 Mins
Retail Price: £14.99
Release Date: 01/06/2015
Content Type: Movie
Synopsis:
Arrow Video is thrilled to announce the European Blu-ray debut of Hammer's legendary gothic flick, The Hound of the Baskervilles, arriving on 1st June 2015. Starring genre stalwarts Peter Cushing and Christopher Lee, this classic Sherlock Holmes adaptation stands as arguably the best re-telling of the Sir Arthur Conan Doyle tale to date.

This new edition comes loaded with a bumper crop of bonus content, including a new audio commentary with Hammer experts Marcus Hearn and Jonathan Rigby alongside a brand new documentary, Release the Hound!, which looks at the genesis and creation of the Hammer classic, featuring interviews with hound mask creator Margaret Robinson, film historian Kim Newman, and actor/documentarian and co-creator of BBC's Sherlock Mark Gatiss.
Also included on the disc are featurettes such as André Morell: Best of British, which looks back at the career of the late great actor and the 1986 documentary The Many Faces of Sherlock Holmes which examines the many incarnations of Conan Doyle's celebrated character, narrated and presented by Christopher Lee.

Rounding off the Blu-ray is an archive interview with Christopher Lee, excerpts from The Hounds of the Baskervilles read by Lee, the original theatrical trailer and an extensive image gallery. The Blu-ray comes with a reversible sleeve featuring original and newly commissioned artwork by Paul Shipper and a collector's booklet featuring new writing on the film by former Hammer archivist Robert J.E. Simpson, illustrated with original archive stills and posters

Synopsis

Sherlock Holmes is the most filmed character of all time – but it is arguably this 1959 re-telling of Sir Arthur Conan Doyle's classic tale The Hound of the Baskervilles, from legendary horror studio Hammer and starring genre stalwarts Peter Cushing and Christopher Lee, which stands as the super sleuth's finest cinematic hour.

Rising up out of the swirling mists of Dartmoor, Baskerville Hall stands tall and gloomy. Its occupant, Charles Baskerville, has been found dead in mysterious circumstances. Could Sir Charles have been the victim of the so-called "Baskerville Curse", which tells of a deadly beast that stalks the surrounding countryside? Unperturbed by the legend, next-in-line Sir Henry Baskerville (a rare leading man performance from Lee) sets out to Dartmoor to assume inheritance of the family estate, under the auspices of the famous detective Sherlock Holmes and right-hand man Dr. Watson (Andre Morell).

Imbued with an atmosphere as thick as fog, The Hound of the Baskervilles is a superlative gothic yarn which benefits from game performances from Cushing, Lee and Morell, as well as the expert direction of Terence Fisher, known for helming many of Hammer's most celebrated efforts including The Curse of Frankenstein, Dracula and The Devil Rides Out.
Special Features:
· High Definition Blu-ray (1080p) feature presentation

· Original uncompressed Mono 1.0 Audio

· Isolated Music and Effects Soundtrack

· Optional English subtitles for the deaf and hard of hearing

· New audio commentary with Hammer experts Marcus Hearn and Jonathan Rigby

· Release the Hound! – a brand new documentary looking at the genesis and making of the Hammer classic, featuring interviews with hound mask creator Margaret Robinson, film historian Kim Newman, actor/documentarian and co-creator of BBC's Sherlock Mark Gatiss, and others

· André Morell: Best of British – a featurette looking at the late great actor André Morell and his work with Hammer

· The Many Faces of Sherlock Holmes – a 1986 documentary looking at the many incarnations of Conan Doyle's celebrated character, narrated and presented by Christopher Lee

· Actor's Notebook: Christopher Lee – an archive interview in which the actor looks back on his role as Sir Henry Baskerville

· The Hounds of the Baskervilles excerpts read by Christopher Lee

· Original Theatrical Trailer

· Extensive Image Gallery

· Reversible sleeve featuring original and newly commissioned artwork by Paul Shipper

· Collector's booklet featuring new writing on the film by former Hammer archivist Robert J.E. Simpson, illustrated with original archive stills and posters

Video Tracks:
1.66:1 Colour

Audio Tracks:
Mono English

Directed By:
Terence Fisher

Written By:
Arthur Conan Doyle (novel) (as Sir Arthur Conan Doyle)
Peter Bryan (screenplay)

Starring:
Peter Cushing
Christopher Lee
André Morell

Soundtrack By:
James Bernard

Director of Photography:
Jack Asher

Editor:
Alfred Cox

Production Designer:
Bernard Robinson

Producer:
Anthony Hinds
Anthony Nelson Keys

Executive Producer:
Michael Carreras

Distributor:
Arrow