Review for The Strange Case of Dr. Jekyll and Miss Osbourne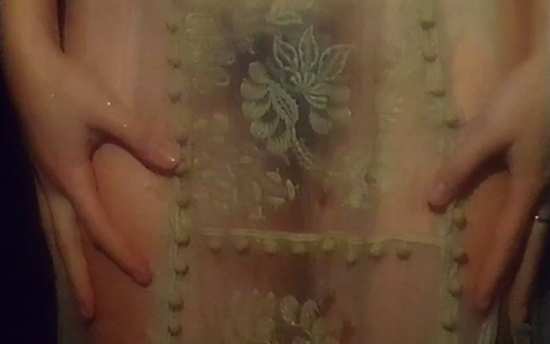 After that fantastic and totally unexpected Walerian Borowczyk retrospective run during last year, where the bulk of the man's work was put out on Blu-ray, it's great that Arrow Video are releasing some of the later, arguably more populist material on Blu-ray. In fact, it's the first time the film has been commercially available since the VHS and Laserdisc era.
For the uninitiated, to some degree this is to Borowczyk what 'Blood for Dracula' and 'Flesh for Frankenstein' is to Warhol (though Borowczyk directed his to be fair) and 'Dr. Jekyll' even features Udo Kier in the title role, bringing that same cult vibe to this as he managed for that.
Some say that this was Borowczyk's last great film (it's certainly his only straight-up horror film) though this was also a film at his master's bidding so his earlier film-making idealism has been considerably watered as a result. Having said that, there is no doubt that some of the director's trademark obsessions are definitely correct and present (not least his obsessive focus on painterly set detail and his pre-occupation with the sexual drive) but these are lessened by the commercial realities of turning in a film with tight budget and content constraints. A very cynical Borowczyk was later to abandon any pretence of artistic merit when the need for cash saw the great man reduced to churning out a very sub-standard 'Emmanuelle 5' but that was later. Here he's arguably still on fine form.
The film is certainly well cast. Udo Kier has a Peter Lorre-ish creepy air about him although is unarguably a good looking chap – a strange combination that works perfectly here. Patrick Magee also features; a fine actor who puts a great deal into his performance here too despite this being one of his final roles. In fact, should you choose the English dub you'll hear his very own recorded words, something not necessarily the case throughout. (Either the French or English dub will include plenty of non-native lip-synchery so the choice is yours).
The story goes that Borowczyk wanted to do a twist on the old Robert Louis Stevenson classic and when reading about Stevenson's wife, once a 'Miss Osbourne', he decided to introduce her to the plot. With the film shot almost entirely in a single building over two weeks, it has a claustrophobic 'closed room' murder mystery vibe that, when mixed with some Hammer horror style Victorian gothic, makes for a very compelling 90 minutes or so - as long as you're prepared to forgive the dodgy dubbing of course.
It's the engagement party for brilliant young Dr Henry Jekyll (Udo Kier) and his fiancée, the beautiful Fanny Osbourne (played by Italian sexploitation star Marina Pierro. 'The Living Dead Girl') attended by various pillars of Victorian society. But when people are found raped and murdered outside and ultimately inside the house, it becomes clear that a madman has broken in to disrupt the festivities – but who is he? And why does Dr Jekyll keep sneaking off to his laboratory?
We know the answer, of course, but Walerian Borowczyk's visually stunning adaptation of Robert Louis Stevenson's much-filmed tale is crammed with wildly imaginative and outrageously perverse touches characteristic of the man who scandalised audiences with Immoral Tales and The Beast, not least the explicitly sexualised nature of Mr Hyde's primal urges.
Immersing himself in baths of blood and re-appearing as the very creepy Nosferatu-like 'Mr. Hyde' (never referred to in that way in this rendition of course and played by Gerard Zalcberg) the murderous rage that engulfs him is clearly sexual in nature – although there is little comedy here (like in 'The Beast' for example).
The film is somewhat less shocking and explicit than 'The Beast' (unsurprisingly) although is full of bloody violence and undisguised sex, albeit only giving occasional flashes of skin in order to secure a more mainstream cinema release.
In keeping with Arrow's raised bar for such releases, it looks really first-class, albeit a little soft and grainy as was the original cinematic intent and which was quite an in-vogue look at the time. The single-channel lossless audio tracks are good and there is much to enjoy in Bernard Parmengiani's electronic score.
Also in keeping with Arrow releases, the extras are plentiful and top notch.
First up is an introduction to the film by critic and Borowczyk aficionado, Michael Brooke who seems genuinely grateful that the film is now available in such a wonderful HD edition.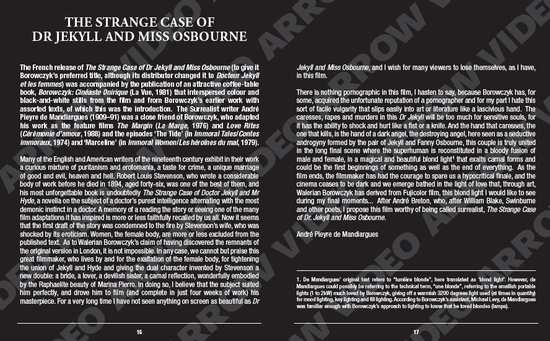 There's also an audio commentary which features archival interviews with Walerian Borowczyk, and new interviews with cinematographer Noël Véry, editor Khadicha Bariha, assistant Michael Levy and filmmaker Noël Simsolo, moderated by Daniel Bird.
Then there are a series of related pieces that definitely earn the 'bonus features' badge.
First up is a slightly dreary if commendable art-piece, 'Himorogi' (2012), a short film by Marina and Alessio Pierro, made in homage to Borowczyk which re-states Borowczyk's obsessive visual detail and covers some familiar territory. Though worthy, it certainly isn't a white-knuckle ride.
There are also some highly informative and fun interviews with Marina Pierro, artist and filmmaker Alessio Pierro and a video essay by Adrian Martin and Cristina Alvarez Lopez.
The 'Eyes That Listen' featurette focuses on Borowczyk's collaborations with electro-acoustic composer Bernard Parmegiani and is absolutely fascinating.
Happy Toy (1979), a short film by Borowczyk based on Charles-Émile Reynaud's praxinoscope originals shows Borowczyk's playfully cheeky side when the standard visual loops are re-cut with vulgar possibilities. (You'll have to watch it to see what I mean). It also includes an introduction by production assistant Sarah Mallinson.
Also included, possibly for the first time on any format is 'Jouet Joyeux'—Borowczyk's long-lost first animated short, rediscovered in 2014, which, whilst only a few minutes long, throws more light on its creators vision.
Rounding off the Blu-ray, a new featurette by Daniel Bird, Return to Melies Borowczyk and Early Cinema is included along with the reversible sleeve with artwork based on Borowczyk's own poster design. The booklet includes new writing on the film by Daniel Bird and archive materials, illustrated with rare stills.
So all in all, whilst not the most spectacular, creative or shocking of Borowczyk's work, it is a film that sits comfortably in the standard horror canon and which you may enjoy regardless of any further interest in its director. This edition is first class and with an almost flawless print and a slew of top-notch features you really couldn't ask for anything better.