Review for Day of Anger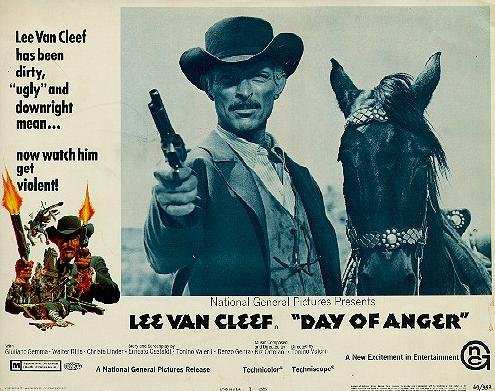 What a scorching Spaghetti Western , easily the match of Sergio Leone's 'silent man' movies featuring Clint Eastwood. Maybe that should come as little surprise when you consider that 'Day of Anger's' director, Tonino Vererii, cut his teeth assisting the great man and it really shows. This is a visually stunning piece of action drama given the Rolls Royce treatment by Arrow in one of the best looking vintage Blu-Rays I have ever seen. But enough of the excitement and on with the review.
Scott (played by impossibly handsome Giuliano Gemma) is an unlikely candidate as town dogs-body, literally taking the townspeople's s**t as he sweeps the streets of Clifton, Arizona. Bullied and beaten, only a local blacksmith (Murph – Walter Rilla), a semi-blind drunk and a couple of working girls show him any respect or sympathy. That is until Lee Van Cleef shows up as Frank Talby, a cool, quiet man on a mission.
Talby gives the youngster a whole dollar to take his horse to the blacksmiths whilst he goes about his business in the small town. Talby is unaware that Scott is an incredibly fast draw and accurate shootist, taught by the now retired Murph on the quiet.
Scott, impressed by the respect that Talby gives him, starts to follow him around and when Talby buys him a drink a local bully picks on him, refusing to drink in the same bar as a lowly s**t-shoveller. Talby goads the bully into drawing his gun first and shoots him dead.
From then on in the two men become inseparable with Scott desperate to learn from Talby so that he can lift himself from the life of misery he currently endures. Lessons are hard learned but Scott persists, eventually becoming Talby's right-hand man as he tracks down the men who betrayed him in a bank heist.
The violent action comes thick and fast, this is a spaghetti western after all, and is beautifully choreographed and tightly directed. A very satisfying watch. Van Cleef may be long in the tooth but he's one mean mother here and before long, Gemma follows suit, justifiably wreaking revenge on a population who have abused him. Some of the gun action does require a healthy suspension of disbelief but it's all worth it and adds up to an incredibly entertaining film. Certainly a film that you'll want to watch more than once if just to see some of the astonishing shoot outs once more.
There are two versions of the film available here; the UK theatrical release and the Italian version which is a bit longer. I opted for the latter and have no idea how it differs although it seemed to already be a film with very little fat to cut.
Dialogue, in common with many spaghetti westerns, is filmed in a variety of languages and then re-dubbed in one (in this case you get English and Italian options) so you get that not-quite-lip-synched look on many occasions but for me that never got in the way of the action or my enjoyment of the film.
From a technical perspective, apart from feeling a little bleak and bereft of human atmosphere on occasion, it's a wonderfully directed piece, superbly shot and edited. The score (Riz Ortolani) is fantastic too. You'll find yourself whistling it's recurring motif for days after watching.
The re-mastering from the original Techniscope negative has paid huge dividends and it looks utterly amazing – as flawless a presentation as I have ever seen, including many contemporary film releases.
As this is an Arrow release, special features are impressive too:
Versions:

1. Longer Italian version, I giorni dell'ira, dubbed in English and Italian (01.54). 2. Shorter international version, available in English only (01.26).

Deleted Scene

(1 min): Here's a brief scene that, ironically, made the shorter UK cut but not the longer Italian version. It's a brief scene showing Murph warning Scott about Talby and what he likely has planned for him. In all honesty, a bit superfluous but I guess it keeps things as complete as possible.

Interviews

(70 mins): Really interesting interviews with director Tonino Valerii (from 2008), screenwriter Ernesto Gastaldi and film critic and spaghetti western aficionado Roberto Curti.

Trailers:

A fistful of trailers from around the world.

Reversible artwork

– I haven't seen this but am sure it'll be great

Booklet

– as above
'Day of Anger' is one of the best spaghetti westerns of all time and Arrow have done a great job with this Blu-Ray release which is absolutely top-notch. If you like your westerns fast and violent then this is for you.