Battlestar Galactica - Complete Original Series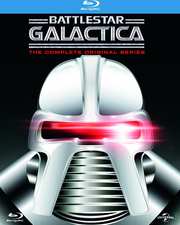 There are those who believe that life here began out there.
Certificate: PG
Running Time: 1647 mins
Retail Price: £59.99
Release Date: 2014
Content Type: TV Series
Synopsis:
Battlestar Galactica (1978)

"There are those who believe that life here began out there."

Stylish and lavishly produced, the original Battlestar Galactica series is still a cult-favourite and remains a stellar example of science fiction at its most entertaining. This Emmy-winning series depicts the epic futuristic battle between the last remaining population of humans and their evil, robotic nemeses - the Cylons. Spiralling through space on their titular fleet, the human forces, led by Commander Adama (Lorne Greene), search the universe for the last known planetary refuge - Earth. Also starring Richard Hatch as Captain Apollo and Dirk Benedict as Starbuck.

Galactica 1980

Discover what happens when the original Battlestar Galactica crew finally makes the long-anticipated descent to Earth. With time running out and Cylons closing in on their trail, Commander Adama and the crew of the Galactica must work harder than ever before to help Earth create the technology necessary for battle. Along for the action-packed fight are such outstanding guest stars as Dirk Bennedict, Brion James, Dennis Haysbert and more!
Special Features:
Audio Commentary
Deleted Scenes
Remembering Battlestar Galactica
Glen A. Larson on the Creation of Battlestar Galactica
Stu Phillips: Composing the Score
The Cylons
Daggit

Video Tracks:
4:3 pillarboxed 1080p

Audio Tracks:
DTS-HD MA 5.1 Surround English (Battlestar Galactica)
DTS-HD MA 2.0 Stereo English (Galactica 1980)
DTS 2.0 Stereo Spanish
DTS 2.0 Stereo French
DTS 2.0 Stereo Italian
DTS 2.0 Stereo Portuguese

Subtitle Tracks:
English
Spanish
French
Italian
Portuguese
Japanese
Danish
Dutch
Norwegian
Finnish
Swedish

Directed By:
Rod Holcomb
Christian I. Nyby II
Alan J. Levi
Daniel Haller

Written By:
Glen A. Larson
Donald P. Bellisario

Starring:
Richard Hatch
Dirk Benedict
Lorne Greene
Herbert Jefferson Jr.
John Colicos
Maren Jensen
Noah Hathaway
Laurette Spang
Tony Swartz
Terry Carter
Patrick Macnee
Anne Lockhart
Kent McCord
Barry Van Dyke
Robyn Douglass
James Patrick Stuart

Casting By:
Patti Hayes
Mark Malis

Music From:
Stu Phillips

Director of Photography:
Ben Colman
H. John Penner

Editor:
Leon Ortiz-Gil
Michael Berman
George Potter

Costume Designer:
Jean-Pierre Dorléac

Producer:
Donald P. Bellisario

Executive Producer:
Glen A. Larson

Distributor:
Universal