Indiana Jones: The Complete Adventures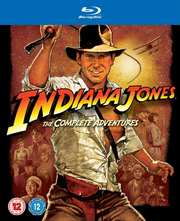 All four movies
Certificate: 12
Running Time: 259 mins
Retail Price: £65.99
Release Date: 2012
Content Type: Movie
Synopsis:
Every unforgettable exploit of world-renowned, globetrotting hero Indiana Jones is featured with pristine picture and sound in Indiana Jones: The Complete Adventures. The cinematic classic that started it all--Raiders of the Lost Ark--has been meticulously restored under the supervision of director Steven Spielberg and sound designer Ben Burtt. Additionally, Indiana Jones and the Temple of Doom and Indiana Jones and the Last Crusade have both been remastered alongside 2008's Indiana Jones and the Kingdom of the Crystal Skull making this landmark release the first time all four films in the epic and award-winning franchise have been available together in sparkling high definition.

In addition to all of Indy's thrilling adventures, the set includes seven hours of fascinating documentaries, featurettes and interviews with cast members and filmmakers. This comprehensive collection of behind-the-scenes bonus features is augmented by a brand new two-part documentary entitled "On Set with Raiders of the Lost Ark – From Jungle to Desert and From Adventure to Legend." Featuring nearly an hour of rarely seen footage from the set of the film and archival interviews with Steven Spielberg, George Lucas and Harrison Ford, these captivating pieces transports fans back to where the legend began.

Raiders of the Lost Ark has been painstakingly restored with careful attention to preserving the original look, sound and feel of the iconic film. The original negative was scanned at 4K and then examined frame-by-frame so that any damage could be repaired. The sound design was similarly preserved using Burtt's original master mix, which had been archived and unused since 1981. New stereo surrounds were created using the original music tracks and original effects recorded in stereo but used previously only in mono. In addition, the sub bass was redone entirely up to modern specifications and care was taken to improve dialogue and correct small technical flaws to create the most complete and highest quality version of the sound possible while retaining the director's vision.
Special Features:
• New--On Set with Raiders of the Lost Ark
o From Jungle to Desert
o From Adventure to Legend

• Making the Films
o The Making of Raiders of the Lost Ark (1981 documentary previously unavailable on DVD)
o The Making of Raiders of the Lost Ark
o The Making of Indiana Jones and the Temple of Doom
o The Making of Indiana Jones and the Last Crusade
o The Making of Indiana Jones and the Kingdom of the Crystal Skull (HD)

• Behind the Scenes
o The Stunts of Indiana Jones
o The Sound of Indiana Jones
o The Music of Indiana Jones
o The Light and Magic of Indiana Jones
o Raiders: The Melting Face!
o Indiana Jones and the Creepy Crawlies (with optional pop-ups)
o Travel with Indiana Jones: Locations (with optional pop-ups)
o Indy's Women: The American Film Institute Tribute
o Indy's Friends and Enemies
o Iconic Props (Crystal Skull) (HD)
o The Effects of Indy (Crystal Skull) (HD)
o Adventures in Post Production (Crystal Skull) (HD)

Video Tracks:
2.35:1 widescreen 1080p

Audio Tracks:
DTS-HD MA 5.1 Surround English
Dolby Digital 5.1 Surround Audio Descriptive English (Crystal Skull only)
Dolby Digital 5.1 Surround German
Dolby Digital 5.1 Surround Spanish (Crystal Skull)
Dolby Digital 5.1 Surround French
Dolby Digital 5.1 Surround Italian (Crystal Skull)
Dolby Digital 2.0 Stereo German (Raiders)

Subtitle Tracks:
English
French
German
Spanish
Italian
Danish
Dutch
Norwegian
Swedish
Finnish

Directed By:
Steven Spielberg

Written By:
Steven Spielberg
George Lucas
David Koepp
Lawrence Kasdan
Willard Huyck
Gloria Katz
Jeffrey Boam

Starring:
Harrison Ford
Shia LaBeouf
Cate Blanchett
Ray Winstone
John Hurt
Karen Allen
Paul Freeman
Ronald Lacey
John Rhys-Davies
Denholm Elliott
Alfred Molina
Kate Capshaw
Jonathan Ke Quan
Amrish Puri
Roshan Seth
Sean Connery
Alison Doody
Julian Glover
River Phoenix

Music From:
John Williams

Director of Photography:
Douglas Slocombe

Editor:
Michael Kahn

Visual Effects:
ILM

Executive Producer:
Steven Spielberg
George Lucas

Distributor:
Paramount Pictures