Review for Nekromantik [Limited Edition Dual Format + OST]
Nekromantik
Jorge Buttgereit
(1987)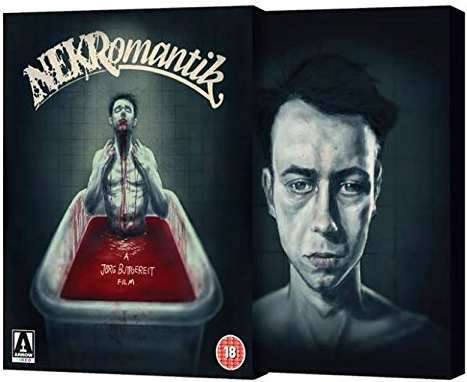 Introduction
Thanks to copious shots of innards, the theft of human flesh, an erect penis visibly spurting both man-sauce and claret during a violent act, and yep, a couple of deviants making sweet love to a corpse,
Nekromantik
has never before been available in the UK.
This no-budget German art-shocker directed by the enigmatic Jorg Buttgereit has since gone on to earn a ferocious reputation. Part of this is down to the "forbidden fruit" nature that anything banned, or considered, as in this case, not material that would pass the rigors of BBFC testing. The other side of the coin is that
Nekromantik's
reputation has grown also because it has come to be regarded as transgressive cinema. The importance of its themes and the various readings that scholars have applied to it through the years though, have been strongly rebuffed by Buttgereit.
A sequel, titled somewhat unimaginative,
Nekromantik 2
, followed four years later and is regarded by many to be the superior film. But Buttgereit's searing original is still arguably the one with the most infamy, and the release of it in uncut fashion, has to be considered a victory in this country. After all this time, the subject of necrophilia is still very much taboo in this country, and subsequent cinematic depictions of the act have met with their own issues.
Is this low budget art-horror worthy of the notoriety?
Film
Jorg Buttgereit's 1988 opus follows Rob Schmadtke, something of a misfit, who works for a Street cleaning agency called "Joe's". It seems their occupation is to clean up human "waste" following accidents and deaths. That they do this with their bare hands, and bin-rather-than-body bags is a little disappointing, mind you.
Rob is living with his girlfriend, Betty, and apparently brings home the occasional piece of a body with which to jazz up their scuzzy apartment. They've quite a collection too, all carelessly shoved into jars by Rob with his glove-less digits. Home for this pair is right out of an early Abel Ferrara film! Both seem to delight in the storage of their preserved bits and bobs of bodies, but Rob appears to be traumatized by a childhood memory of his father butchering his pet rabbit (said scenes are easily the most troubling part of the film for any sane individuals. They're all too real and deplorable). Eventually, despite being bullied by his foreman, Bruno, work throws him an .... Erm.... Bone, in the shape of a rotting corpse. As you would, Rob takes it home, and indulges in a sloppy ol' threesome with the stiff and Betty. Disturbingly, they fabricate a new penis for their lover by sawing off a piece of wood, in a head-scratching decision. Despite this titillation ,a strain is put on their relationship when the depressed Rob's work situation takes a turn for the worse. From that point, his world quickly collapses around him.
There isn't much complexity to what's going on in
Nekromantik
, and that is reflected in the scant running time, of under 75 minutes. It's just as well though, because despite its reputation and the subject matter, Buttgereit's melodramatic horror doesn't dwell on the horrible too much, and feels more akin to art-house exploration of sexual desire than a straightforward exploitation picture. With no money and few materials at his disposal, it doesn't bear thinking about what the director may have came up with had the film been a little longer. As
Nekromantik
stands, it's actually pretty compelling, despite a few lulls, and is certainly different.
The actual lovemaking scenes involving the corpse, are- and this sounds utterly bizarre- rather tastefully handled. It's a shame that technically, they aren't the smoothest, but the slow motion imagery is artfully designed to create a mood, and not to hover in and zone in on countless instances of grue.
Indeed, the film boasts some lovely imagery, and well-intended compositions, even of the execution sometimes lets them down. At this stage, Buttgereit clearly hadn't quite mastered everything technically, despite what was in his head. He's helped by a superb soundtrack. This is seriously one of the best horror soundtracks I've ever encountered, and boasts a gob-smacking main theme that compares favorably to Ortolani's famous Cannibal Holocaust title track.
There are negatives despite his approach too. A slapstick incident involving a man being shot while picking apples from a tree, sits oddly with some of the other scenes, and feels very amateurish. As previously mentioned, despite the careful framing and impressive ideas that come from the head of the director, his inexperience also shows in the form of details really lacking. At no point do the Street Cleaning team actually look remotely believable. It's their lack of gloves, hygiene (Blood splattered overalls are taken home- hands unwashed after work), the van used for transportation which was clearly the best the crew could borrow.
Aside from the convincingly creepy lead pair, the cast are also uniformly rubbish and exhibit less natural behaviour than characters in a Dario Argento picture.
However, despite the obvious shortcomings.
Nekromantik
is still a very worthwhile exercise, thanks to the unique vision and commendable ambition of the director.
This isn't a masterpiece by any stretch of the imagination, but it's a really curious, bewildering film to experience, and its existence on shelves as an uncut UK Blu Ray is absolutely vital.
Extras
It cannot be overstated how strong a package Arrow have supplied here. This is fabulous.
-The Nekromantik Legacy
Arrow's new, forty minute documentary is superb.Contributors such as Alan Jones and Marc Morris give this piece huge personality as well as credibility. Informed folk such as David Kerekes speak not just about the film and its impact, but their feelings when they first encountered such an original piece of cinema. 1988's Shock Around the Clock event is covered in fascinating fashion, while generally, this is a documentary concerned with the response to the movie as much as the film itself.
Almost everyone makes a good effort to dissect the importance of
Nekromantik
too and it's place in horror history,without being pretentious. It's particularly interesting to hear a counterpoint to the ridiculous tabloid reactions to Arrow's uncut "Unleashing" of the movie.
-In Conversation with the Death King
A new interview running 23 minutes with Buttgereitt in English. An excellent little feature that nicely compliments the documentary.
-The Making of Nekromantik
At just 12 minutes this is too brief to amount to much. With that said, it's pretty interesting, particularly as the director discusses some of the more deplorable things the actors were subjected to doing!
-Jorg Buttgereit Q & A
Filmed in Glasgow during the summary and moderated by Calum Waddell, this beast of a session runs 45 minutes, and covers a wide range of stuff. Really entertaining stuff; Buttgereit is perfect sort of thing.
-Nekromantik "Grindhouse Version"
A transfer of the film taking from the only existing 35mm print. This unrestored version is obviously very rough indeed, but it's inclusion is definitely worth a look.
-Nekromantik Featurette
1997 German piece, shot as a bonus for of all things, a VHS release. This feature only runs 9 minutes, but looks very good indeed, and boasts some great behind the scenes footage.
-Nekromantik Premiere
Cinematographer Uwe Bohrer's short that follows the Berlin debut of the film, in 1988. This is only a 2 minute piece and really doesn't offer a lot, besides flashes of Buttgereit's charisma.
-Also, an optional director's introduction, two Buttgereit music videos, four short films, Restored trailers for four Buttgereit films, an image gallery and Commentary track from the director and his co-writer.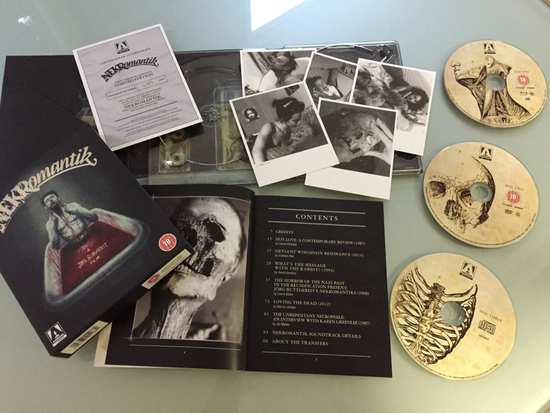 The inclusion of the short films, and the commentary alongside the main documentary would make for a very solid assortment alone. Combined with the wealth of other material included here, makes
Nekromantik
one of Arrow's finest, meatiest packages yet.
-This Limited Edition (3,(000), also includes a beautiful 100 page book, 5 Exclusive Postcards, a soundtrack CD, and comes in Limited Edition Packaging. It's a beautiful set.
Overall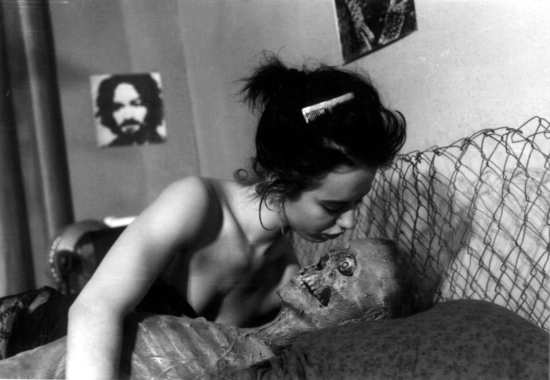 It goes without saying really: this isn't a film for everyone.
Nekromantik's
reputation certainly precedes it, and in some ways that lets the film down. This isn't standard exploitation fare, it has a lot more to say, even if it is seriously rough around the edges, and boasts some major lapses in judgment. It also may suffer from appealing to those who do crave gorier, exploitation epics, while being extremely unlikely to satisfy those people.
It says a lot however, that the only really upsetting moment is the slaughter and skinning of a rabbit. Otherwise,
Nekromantik
comes across as a down-beat, low budget trawl though human slime, with really gritty, punk grind-house roots.
Arrow's new Blu-ray offers a window-boxed 1.31:1 ratio, for a 1080p transfer. This has been director approved and realistically, was never going to look fantastic, given that it was shot on Super 8. The resulted image has been scrubbed up significantly, and loses a fair degree of depth for the sake of clarity. Of course, you do have the grain-heavy Grindhouse version within the set to watch, which is perhaps a truer representative of the film and doesn't feature such digital manipulation, but contains enforced subtitles and is very rough indeed.
Either way, it's nice to have the option, and the restored version looks very solid indeed.
Buttgereit's film is one of the most curious genre pieces of the Eighties, wrapped in a release that finally does it justice. This is easily one of the best Blu Rays of the year, and an essentially experience for those who can both stomach the subject matter, and appreciate the artistry intended by the young director.