Goto, Isle of Love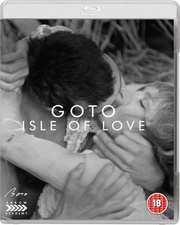 Goto, l'île d'amour
Certificate: 15
Running Time: 94 mins
Retail Price: £19.99
Release Date: 08/09/2014
Content Type: Movie
Synopsis:
Synopsis: Walerian Borowczyk's second feature was just as original as his first. Almost entirely live action this time, it is situated on the archipelago of Goto, which has been cut off from the rest of human civilisation by a massive earthquake and has consequently developed its own arcane rules. Melancholic dictator Goto III (Pierre Brasseur) is married to the beautiful Glossia (Ligia Branice), who in turn is lusted after by the petty thief Gozo (Guy Saint-Jean) as he works his way up the hierarchy.

Its thinly veiled critique of totalitarianism saw it banned in both Communist Poland and Fascist Spain (to Borowczyk's delight), but the film is most notable for its uniquely original atmosphere, in which bizarre props and sets (designed by Borowczyk himself) are given as much weight as the human actors. Its grave beauty is underscored to perfection by one of Handel's organ concertos.

This brand new high-definition restoration from the original 35mm interpositive includes the haunting colour sequences that were sometimes omitted from earlier releases.
Special Features:
SPECIAL EDITION CONTENTS:
New high definition digital restoration
Uncompressed Mono 2.0 PCM Audio
Optional English subtitles
Introduction by artist and Turner Prize nominee Craigie Horsfield
The Concentration Universe, a new interview programme featuring actor Jean-Pierre Andréani, cameraman Noël Véry and camera assistant Jean-Pierre Platel
The Profligate Door, a new documentary about Borowczyk's sound sculptures featuring curator Maurice Corbet
Reversible sleeve featuring original poster designs
Collector's booklet

Video Tracks:
16:9 Black & White & occasional colour

Audio Tracks:
French

Subtitle Tracks:
English

Directed By:
Walerian Borowczyk

Written By:
Walerian Borowczyk
Dominique Duvergé

Starring:
Pierre Brasseur
Ligia Branice
Jean-Pierre Andréani

Director of Photography:
Guy Durban

Editor:
Charles Bretoneiche

Producer:
Louis Duchesne
René Thévenet

Distributor:
Arrow Academy