Review for Twins of Evil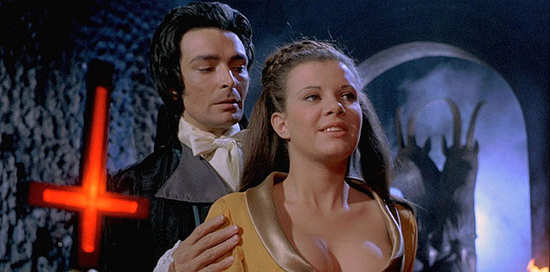 'Twins of Evil' may not be one of the finest Hammer Horror's but it's always, perhaps shamefully, been one of my favourites. I'd like to suggest that this is based on the powerhouse performance by Hammer stalwart Peter Cushing as one of the most tortured 'Witchfinders' in the genre. But I suspect (as do you probably) that it actually has more to do with the fact that it cast identical twins and Playboy Playmates Mary and Madeline Collinson in the title roles.
Of course I didn't see it in the day. It was rated X so I could only imagine (from the stills in one of my horror movie books) what it might be like and when I eventually saw it on DVD some years ago, it struck me as surprisingly tame but thoroughly enjoyable nonetheless. Watching it again on this splendid Blu-Ray transfer, I found myself enjoying it every bit as much this time round.
Apparently writer Tudor Gates (I kid you not…) was all set for a pretty standard 'Witchfinder versus Vampire' plot when he took a call from one of the film's two producers (Harry Fine or Michael Style) saying that he'd just seen the twins in Playboy and that plans should be made to 'write them in'. An inspired moment at certainly added some much needed spice to the oeuvre, faltering slightly by now with lesser sequels to the studio's better films. As a result the film may be slightly ridiculous, but it's damned good fun.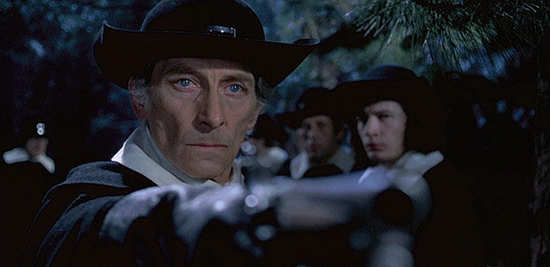 In some very loose respects, the film could be seen as part of a trilogy along with 'The Vampire Lovers' and 'Lust for a Vampire' as each moved away from Stoker's Dracula to an earlier source by adapting works by writer Sheridan Le Fanu – although the adaptations are far from faithful.
So when two beautiful orphaned identical twins, Maria and Frieda Gellhorn (Mary and Madeleine Collinson) move to the village of Karnstein they move in with their Uncle Gustav Weil (Peter Cushing) who is a fanatical Christian and the leader of a witch-hunting Brotherhood. In the meantime, the evil local Count (brilliantly if camply played by Damien Thomas) is a Satanist who manages to conjure up Beelzebub himself who promptly turns him into a fully-fledged vampire.
When one of the twins (the wicked one – Frieda) visits the Count at his castle in a bid to escape from the puritanical dreariness of her new home-life, she is drawn by the Counts wicked ways and before long he has his fangs in her neck and she too becomes one of the undead.
And so it goes with all the inevitability of mistaken identities (why use Twins otherwise) making this the gothic equivalent of 'The Parent Trap', as well as dramatic mob scenes, beheadings and much baring of fangs.
It's Hammer on auto-pilot for the main part with nothing particularly stunning to report in terms of direction or cinematography which are both delivered professionally enough.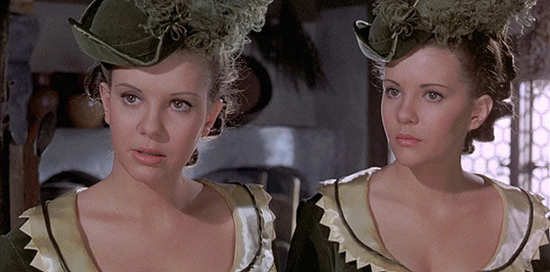 Interestingly it features a lovely performance from an older Denis Price (School for Scoundrels, Vampyros Lesbos) as the Count's 'man who does for' and he certainly looks the part of a haunted confidante, positively dripping with greasy compliance.
The transfer is fine if not quite in the 'stunning HD' category – certainly a big uplift from my Carlton DVD version. Extras are a bit frugal compared to the parallel release fo 'Countess Dracula' (watch for my review on that shortly) and comprise a trailer, image galleries and one curious deleted scene with some of the school-girls singing a song in a clip that would feel more at home in 'The Wicker Man'. It's easy to see why it was deleted.
Clearly an essential purchase for Hammer fans.