FLCL Complete Collection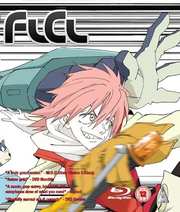 Ready, Steady, Go!
Certificate: 12
Running Time: 151 mins
Retail Price: £24.99
Release Date: 2013
Content Type: TV Series
Synopsis:
The series is Produced by GAINAX (Neon Genesis Evangelion) and animated by Production I.G. (Ghost in the Shell), FLCL takes animation to yet another level. Get ready for this shocking, funny, and right out freaky show about adolescence, expectations and alien intrigue.

Naota wants to be normal. But with a talented brother leaving Japan for the US to play baseball, everyone now looks at him a bit differently. His brother's girlfriend is acting strange and now there's an even stranger girl hitting on him.
Literally.
With a bass guitar.

Oh, did I mention the robots that keep springing from his head?

The time: the present... perhaps.

The place is an outlying city called Mabase, from which grows the gigantic Medical Mechanica plant. Nandaba Naota, a smart-aleck schoolkid, gets sideswiped by a Vespa on his way home with his brother's girlfriend, Samejima Mamimi. When he gets home from school the next day, he finds the woman on the Vespa from the day before in his living room. Naota is stunned as he listens to his father explain that he has just hired her as their new housekeeper. She tells him her name is Haruko. Naota doesn't know how to react to the fact that he and Haruko are suddenly living under the same roof. And then there's the mysterious robot that suddenly appears before Naota when he goes out into the night for Mamimi. Things get strange very quickly...
Special Features:
Director's audio commentary (with English subtitles)
Videos with Music by The Pillows
Ride on Shooting Star Music Video
Outtakes
Textless Closing
Trailers

Video Tracks:
4:3 pillarboxed 1080p

Audio Tracks:
Dolby TrueHD 2.0 Stereo English
Dolby TrueHD 2.0 Stereo Japanese

Subtitle Tracks:
English

Directed By:
Kazuya Tsurumaki

Written By:
Yoji Enokido

Starring:
Barbara Goodson
Melissa Fahn
Chiemi Chiba
Steven Jay Blum
Izumi Kasagi
Mayumi Shintani
Jun Mizuki

Music From:
The Pillows
Shinkichi Mitsumune

Producer:
Shizuki Yamashita
Stephanie Sheh
Nishizawa Masatomo
Sato Hiroki

Executive Producer:
Hideki Uchino
Maki Terashima-Furuta
Toshimichi Otsuki

Distributor:
MVM