Review for Theatre of Blood
Theatre of Blood (1973)
Director: Douglas Hickox
"Dishy Dishy hair.... Can't wait to get my hands on it!"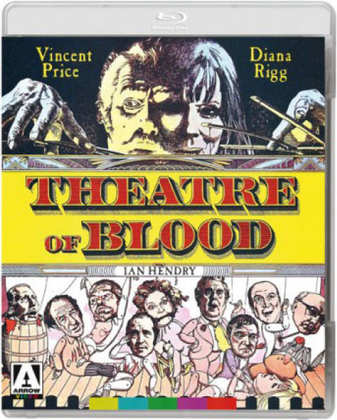 Introduction

Vincent Price is the legendary Missouri born actor, who became synonymous with the horror genre, despite boasting a much wider range and depth than his reputation would suggest.
When cast in the lead role for Theatre of Blood in 1973, in the early Seventies, it was towards the end of his long tenure as one of horror cinema's most captivating stalwarts. Price would go to etch many more notable roles however, and today stands as an icon of the macabre comparable to only a few, but also as a fine actor aside from any genre trappings.
Director Douglas Hickox worked as an AD and Second Unit Director throughout much of the 50s and 60s, becoming most prolific as a helmsman in the 70s. His biggest film, a relative flop, was 1979's Zulu Dawn. In the 80s, he went into television, and three of his children all work in film, including Anthony, who directed such entertaining over-the-top horror films as Warlock: Armageddon, and Hellraiser III: Hell on Earth.
Film

Vincent Price stars as Edward Lionheart, an actor who believes himself to be a truly great thespian. Devoting himself to play Shakespearean roles, he is deeply offended when an unfathomably influential group of critics "The Critics Circle", fail to award him for his work. Following the awards ceremony, Edward spectacularly kills himself, much to the amusement, then horror of said high-brow connoisseurs.
Two years later, the critics begin to be slaughtered one-by-one, each in a fashion replicating the death of a character in a Shakespeare play. The police struggle to get a handle on the case, while leading critic, Peregrine Devlin (Ian Hendry) seems to be the only person with anything to offer the investigation, as he consults with Lionheart's daughter, Edwina (Diana Rigg). Devlin however, is the main course, as the pretentious bunch are lopped off one at a time via increasingly grisly means. Can they locate Lionheart in time?
Obviously, this is all madness, but Theatre of Blood boasts a superb cast, and a deliciously wicked premise. It's also executed brilliantly, bobbing around somewhere between an old-fashioned British horror, and a post-modern dissection of conventional Agatha Christie adaptions.
There's some delightful absurdity at work. Under threat of murder, when colleagues are being slaughtered around you, would one really take to their fencing class, even when it turns out nobody familiar has arrived, let alone joust with a stranger?
Mind, the subsequent duel with Price is, well priceless. Stunts aplenty, this is a genuinely thrilling action sequence, even if it does sit rather oddly within the film. Look out for a fabulous trampoline fueled attack, plus a stupendous Errol Flynn style swashbuckling moment.
Likewise, the police work exhibited here, is of a shocking standard. Detective
Lack of instinct for any form of procedure is quite gob-smacking at times. In the climatic sequences in particular, he throws members of the public into danger with reckless abandon.
Modern audiences will likely find some of this a little slow going, and those unfamiliar with the specific homages and affectionate riffs may find the campy tone, over-the-tone off-putting. But there is much to enjoy here, it really does find a comfortable, thrilling position located somewhere between black comedy, and charming horror.
Theatre of Blood is both genuinely funny, and terrifically suspenseful. It holds up magnificently today, not just as one of Vincent Price's greatest moments, but as one of the finest British horror films of the Seventies.
Extras
-Audio Commentary from The League of Gentlemen
This is worth the price of admission alone.
Mark Gatiss does the bulk of the talking, and they all clearly know the material very well indeed. From predicting certain incidents and details in hilarious fashion, to pulling out their own deranged impressions, they revel in the silly camp without ridiculing the film. It's interesting to hear them say how they had no idea about the Diana Rigg "twist" in the film which really points to the innocent time in which the film was first viewed. Also, they discuss which death "affected them most", the ludicrous fashions sported by the cast, and generally relish re-watching the movie with utter, unbridled joy. It's difficult not to get caught up in their infectious enthusiasm.
-A Priceless Pot Boiler
An 11 minute interview with Vincent Price's daughter, Victoria.
Lots of really nice personal anecdotes here. Victoria speaks about her father's love of verse, and her admiration for the great Diana Rigg before discussing the latter days in his career.
This is a really nice piece, and Victoria is a superb speaker.
-A Fearful Thespian: An Interview with David Del Valle
Historian Del Valle takes us through the background of Hickox's film during a 10 minute segment. Particularly interesting are his notes on the film's original title "Much Ado About Murder", and a discussion on Price's public image. He also fills us in a little on Price's relationship with Coral Browne, including a great anecdote on her uproarious hairdressing scene in the film.
-Staged Reaction: An Interview with Star Madeline Smith
Interesting talk with Smith, who I personally feel was a slightly underwritten character. However here, she discusses scenes that were lopped out of the final cut, adding a little extra [perspective on the feature. She also speaks about Hickox being rather a gruff figure as a director. Decent 9 minute talk.
-A Harmony For Horror: An Interview with Composer Michael J. Lewis
17 minutes of composer Michael J. Lewis, a rather eccentric personality.
Lewis is at his piano, and delightfully plays a little throughout this really intriguing interview. There's also lots of stories from Lewis here that offer a different side of the creative process, and some unexpected anecdotes. All wrapped in a barmy package, lovely.
-Original Trailer
With the trailer rounding things out, it must be said; this is an excellent package. Newcomers to the film such as myself, with revel in the efforts High Rising have put into the material.
Overall
This marks one of Vincent Price's most memorable roles and Arrow's presentation of the film can barely be faulted. The picture quality is hardly demo-standard, but it never could have been expected to be. Instead, it's as good and accurate an image that one could expect for a modest 70s shocker. For the most part, it's clean, clear, and free of aggressive damage.
The Audio meanwhile, is slightly less impressive, but still adequate.
Along with Arrow's other Vincent Price releases, this is indispensable... an essential purchase.