Review for The Delta Force
The Delta Force (1986)
Director: Menahem Golan
"It's a go. Take them down."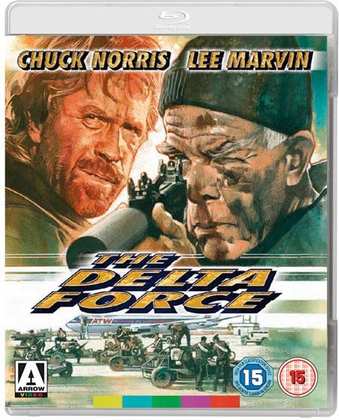 Introduction
Cannon Films are known as the enigmatic American group which famously produced numerous B-Movies, as part of wider group (Cannon Group Inc.) who also owned cinema chains and the rights to large numbers of home videos. They were eventually taken over by
Pathé
after a string of losses, most notable the failures in 1987 of the awful
Superman IV
and the bewildering
Masters of the Universe.
I personally, fondly remember the Belfast based Cannon cinema as being the location for my earliest cinema trips, including
Transformers: The
Movie.
I also attempted to see Disney's
Oliver and Company
there, but was dismayed when it was sold out (particularly as it was one of their "In theaters only releases"), and actually, to this day, I've never seen it!
Arrow have recently taken an interest in the Cannon archives for several of their releases, including the superb presentation of Tobe Hooper's
Lifeforce
(most notable for the must-see High Rising Documentary,
Cannon Fodder
), the excellent
Runaway Train
, and the much misunderstood,
Texas Chainsaw Massacre 2.
Menahem Golan, the director of
The Delta Force
, is the Israeli director who founded Golan-Globus, who purchased Cannon in 1979. It's perhaps their vision of Cannon that is best-remembered, as for the next half-a-decade or so, they picked up and produced numerous, successful B-Movies. His directorial credits include
Operation Thunderbolt
, an Israeli film with Klaus Kinski; the popular, Franco-Neo starring,
Enter the Ninja
; and the horribly received
Over the Top
, with Sylvester Stallone.
Chuck Norris meanwhile, needs no introduction.
Delta Force
is one of the most fondly remembered action films from both Cannon, and their hirsute star, Norris. Even Roger Ebert praised
The Delta Force!
Film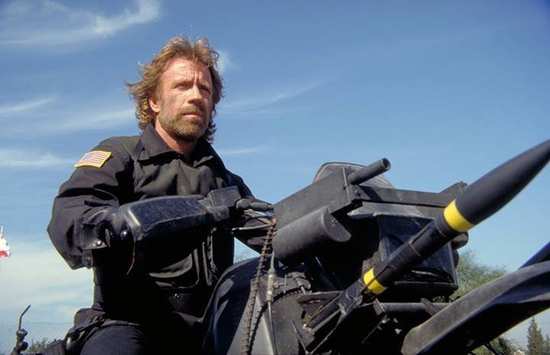 Chuck Norris stars as Major Scott McCoy, grizzled, disillusioned member of the US Delta Force. Following a prologue in which the actions of his superiors result in him packing his bags and quitting, he presumably spends the subsequent five years arsing about the desert, devouring whole cacti for breakfast.
McCoy is called back into action by his gruff Colonel, Nick Alexander (played by Lee Marvin), when an American Boeing 707 is hijacked. Traveling from Cairo to Athens, Flight 282 is taken by a pair of terrorists, who force the pilots (including a captain played by Bo Svenson), to reroute to Beirut.
On board the plane, the nefarious villains separate the Jewish folk from the others. This leads to some hilariously terrible dialogue, and several oddly stilted, but weirdly effective scenes of emotion as males are torn from their families. There's a couple of twists along the way too as to what their plans are for different members of the hostage fraternity, which confuses the rescue operation. It's up to McCoy and his crew to save the hostages, bring the plane in, and head to Beirut and do away with the terrorists. All in a day's work.
There really is a stellar line up on parade here. Norris and Marvin make for terrific lead pair. They've great, scenary-chewing chemistry together, making the most of two characters that are essentially two-dimensional stereotypes.
The Man From Uncle, Robert Vaughn, pops up briefly in a glamorous cameo as their general, and is equally as silly and fun. Rounding out the main Delta Force players is the credible Steve James, a solid action star who played one of the leads in another fine Arrow release,
The Exterminator.
Opposite them, are the unlikely duo of an extremely tanned Robert Forster and the jittery David Menachem (who must have been the inspiration behind Gary Johnston's wild disguise in
Team America
). Forster's character packs every cliche in the book into one dubious faux-Lebanese stereotype. Politically incorrect it may be, but he's tremendous fun.
Likewise, tough-guy Bo Svenson makes for a commanding Captain of the unfortunate plane, while he's suitably assisted by hostess Ingrid (an attention catching performance by Hanna Schygulla).
Academy Award winners Martin Balsam and Shelley Winters are the lead couple of hostages, and they both look as if they were having a blast. They're joined by such luminaries as talk show host Joey Bishop; Lee Strasberg's daughter, Susan; hugely familiar face Lainie Kazan, whom observers may recognize from
Desperate Housewives
or
Beverly Hills 90210
; the incomparable George Kennedy; future
NYPD Blue
favourite, Kim Delany; and Chuck Norris' own son, NASCAR racer, Eric.
As expected, the strong cast is one of the stronger aspects of the production. They really do, at least at times, bring a degree of credibility and pathos to all of the ridiculous antics and stereotypes. Forster is particularly memorable as the villain, overcoming his laughable appearance and some highly dubious dialogue.
Obviously though, this is Norris' film, and the ginger-faced martial artist struts his stuff in triple denim at one point, taking the time time to deliver one or two terrible, sub-Schwarzenegger one-liners. He looks incredibly nonchalant throughout, whether it's leaping from a motorbike to a plane, toying with outmatched foes in hand-to-hand combat, or firing rockets from his bike at multiple moving targets at the same time. Most viewers will probably be able to deduce from the menu screen alone whether or not they'll enjoy this film, as it depicts Norris' silhouette riding proudly on the aforementioned motorbike, and his mullet flapping around like the king of a pride of lions' mane.
There's much to admire here. A Beirut-based car chase sequence is short, but thrilling, while the opening prologue is wondrously cheesy; "They're two men... I've got a whole squadron to worry about!" The actual flight hijack sequence is clumsily shot and edited, however it somehow manages to be both rather tense, and manufacture a real sense of empathy for the victims.
Later scenes do descend into really ridiculous territory. A hostage's provision of his daughter's teddy simply makes him look like a goof, and there's a terribly staged dummy-falling sequence that takes away all believability. Additionally, the supposedly covert Delta Force are the least subtle task force in history, rolling up to the Beirut hideout like a stampede of elephants that somehow go unnoticed. But that's all unquestionably part of the charm. Whether it's Norris peeping out from behind a curtain, the really poorly constructed sense of place in Beirut- where it appears that Delta Force take the most difficult route to retrieving hostages, or the frankly weird exchanges between Mustafa and a pregnant passenger, it's all in good fun.
A special note has to be made of the incredibly naff music by Alan Silvestri. It is absolutely glorious. The $9million budget also allows for one or two really impressive stunts, and several lovely sequences. In fact, although the film lacks any real visual style, and suffers from being, all too often, too bright and flatly directed, there are instances wherein it looks a much more expensive action movie.
Obviously,
The Delta Force
is an acquired taste. It's deliciously daft, and stomps all over political correctness. Fans of 80s action films that cater to the somewhat middle ground of the market will find much to enjoy here. Don't expect the sheen of Arnie's best work, but don't dismiss
Delta-Force
as a basic no-budget effort. This is one of Cannon's most charming efforts.
Extras

- Genre Hijackers: Mark Hartley on Cannon Films
14 Minute interview with the director of
Electric Boogaloo: The wild, untold story of Cannon films
, gives us a hugely entertaining run down on the notorious, and perhaps misunderstood studio. Hartley takes great care to ensure that he explains the appeal of much of Cannon's catalogue, without disparaging the films themselves. He readily admits that quality wasn't always at the forefront of concerns, but nonetheless is able to succinctly explain the qualities the films did have. There's also just enough time to appreciate some of the lesser known Cannon releases, as well as several that were certainly above the level of either scope or artistry that many associate with the group.
It serves the dual purpose of helping you appreciate the background behind films with the aesthetics of
Delta Force
, and really makes one keen to catch Hartley's own documentary should it see the light of day.
-Chuck Norris Scribe
A 21 minute interview with James Bruner, the screenwriter of
Delta Force.
Bruner's stumbling into the occupation is rather amusing, and there's some great imagery to accompany his stories. Bruner takes us through his early work such as
An Eye for an Eye
and his experiences with Norris. A really intriguing look specifically at the screenwriter, as well as observing the process from a different perspective.
-May the Delta Force Be With You
An interview with Commandant Christian Prouteau. He was an instructor for
The Delta Force
, and founder of the French GIGN. Running 23 minutes, this interview in French and a bit dry, but is nonetheless pretty informative.
-Trailer, Reversible Sleeve, and collectors' booklet.
Overall
Arrow's Blu-ray is not the first edition of this movie to hit HD, as it's been previously released by MGM in the US as a region free disc. However, Arrow's packaging make for an extremely nice edition. It's difficult to see fans of the film not being impressed by this package. The extras do not amount to anything earth-shattering, but providing you don't object too strongly to the lack of Chuck Norris among them, most will be reasonably pleased.
Viewers should be aware that the LPCM 2.0 stereo track that while the audio is largely very good, there are also incredibly loud stretches during gunplay that really test the ear-drums. Image-wise, this release has been acknowledged as being very similar to the MGM US release, if not better, and a massive improvement over the DVD. As a first time viewer, I was very impressed by the clean image, which has held up well, barely aging in the near-two-decades since the film's release.
I'm not usually an advocate for "so bad it's good" movies, particularly within the action genre, but I have to make an exception for this effort.
You know exactly what you're getting with a film like
The Delta Force
. It's an action film about an American plane that's hijacked by terrorists, and Chuck Norris is called in to sort it out. He rides a motorbike with rocket launchers. That's it. It really does have to be "taken for what it is", and enjoyed on its own ludicrous terms. It's aged remarkably well, and should be commended for managing to maintain an air of excitement across a two hour-plus running time. Considering the budget, it remains a remarkably ambitious project.
If that sounds like your cup of tea, this is the film for you.