Pom Poko - Double Play: The Studio Ghibli Collection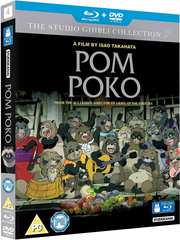 Set on the outskirts of civilization
Certificate: PG
Running Time: 119 mins
Retail Price: £24.99
Release Date: 2014
Content Type: Movie
Synopsis:
From the acclaimed director of GRAVE OF THE FIREFLIES and available for the first time on Blu-ray in stunning high-definition, POM POKO is a unique window into Japanese folklore, a comedy of modern failings, and an elegiac tale of unlikely heroes fighting insurmountable odds.

As civilization draws ever nearer to their idyllic forest home, a group of mischievous Japanese tanuki raccoons try to scare humans away. But they soon discover that man is not their only rival in the struggle for their age-old territory.

Originally released in 1994 as the Japanese economy slumped but looking back to the sixties construction boom in Tokyo's Tama Hills, POM POKO questions the money-grabbing ethics of yuppie Japan, and mourns the loss of the countryside. Drawing on Japanese myths and legends, writer and director Isao Takahata presents a satirical view of woodland spirits using every available magical ruse to take on the modern developers: including transformations, sabotage and trickery.

POM POKO was created at the legendary Japanese animation film studio, Studio Ghilbi. Critically acclaimed, POM POKO won the award for Best Animated Feature Film at the Annecy International Animated Film Festival in 1995 and has become a cult classic for Japanese audiences and fans of anime alike.

Celebrated for its clever visual design and its smooth animation, POM POKO tells the ever-occurring story of age-old traditions clashing with the fast paced developments and trappings of modern society. A cult classic, POMO POKO is a slapstick and-at-times gritty comedy taking a metaphorical swipe at Japanese society, restored to delight new audiences.
Special Features:
Storyboards • Original Japanese Trailers • Studio Ghibli Trailer Reel

Video Tracks:
1.85:1 widescreen 1080p

Audio Tracks:
PCM 2.0 Stereo English
PCM 2.0 Stereo Japanese

Subtitle Tracks:
English

Directed By:
Isao Takahata

Written By:
Isao Takahata
Kenji Miyazawa

Starring:
Nijiko Kiyokawa
Norihei Miki
Yuriko Ishida
Makoto Nonomura
Kokondei Shinchou
Jonathan Taylor Thomas
Maurice LaMarche
Andre Stojka
Brian George
Clancy Brown
J.K. Simmons

Music From:
KORYU
Manto Watanobe
Masaru Goto
Ryojiro Furusawa
Yoko Ino

Director of Photography:
Atsushi Okui

Editor:
Takeshi Seyama

Producer:
Toshio Suzuki

Executive Producer:
Hayao Miyazaki
Ritsuo Isobe
Seiichiro Ujiie
Yasuyoshi Tokuma

Distributor:
Studiocanal