Doomsday Collection (The Day After Tomorrow / The Day the Earth Stood Still / Independence Day)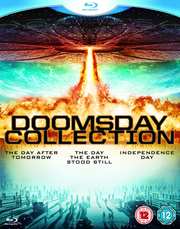 3 Blockbuster Movies!
Certificate: 12
Running Time: 373 mins
Retail Price: £33.99
Release Date: 2009
Content Type: Movie
Synopsis:
The Day The Earth Stood Still (2008): A remake of the classic 1951 science-fiction film and starring Keanu Reeves stars as Klaatu, a humanoid alien who arrives on Earth accompanied by an indestructible, heavily armed robot, Gort, and a warning to world leaders that their continued aggression will lead to annihilation by a species watching from afar. This classic tale of man's arrogance, updating Cold War themes of nuclear warfare and incorporating current issues of environmental destruction, has been a massive influence on modern cinema. This faithful remake stays true to its roots and delivers a sobering message with no little excitement, suspense and drama.

The Day After Tomorrow: When global warming triggers the onset of a new Ice Age, tornadoes flatten Los Angeles, a tidal wave engulfs New York City and the entire Northern Hemisphere begins to freeze solid. Now, climatologist Jack Hall (Dennis Quaid), his son Sam (Jake Gyllenhaal) and a small band of survivors must ride out the growing superstorm to stay alive in the face of an enemy more powerful and relentless than any they've ever encountered... Mother Nature!

Independence Day: One of the biggest box office hits of all time delivers the ultimate encounter when mysterious and powerful aliens launch an all-out invasion against the human race. The spectacle begins when massive spaceships appear in Earth's skies. But wonder turns to terror as the ships blast destructive beams of fire down on cities all over the planet. Now the world's only hope lies with a determined band of survivors, uniting for one last strike against the invaders - before it's the end of mankind.
Special Features:
The Day The Earth Stood Still (2008)

Commentary
Bonusview
Storyboards
PIP Making Of Mode
Build Your Own Gort
Deleted Scenes
Reimagining the Day
Unleashing Gort
Watching the Skies: In Search of Extra-Terrestrial Life
The Day The Earth Was Green
Stills Galleries
Theatrical Trailer

The Day After Tomorrow

Commentary
Global Warming Trivia Track
Deleted Scenes
Cold Zone Game
Theatrical Trailers

Independence Day

Commentaries (2)
Alien Scavenger Hunt Game
ID4 Trailers
ID4 Data Stream Trivia Track

Video Tracks:
2.35:1 widescreen 1080p

Audio Tracks:
DTS-HD MA 5.1 Surround English
DD 5.1 Audio Descriptive
DTS 5.1 Surround French
DTS 5.1 Surround Italian
DTS 5.1 Surround Russian
DTS 5.1 Surround Spanish

Subtitle Tracks:
English
Danish
Finnish
Norwegian
Swedish
Italian
Spanish
Dutch

Directed By:
Scott Derrickson
Roland Emmerich

Written By:
David Scarpa
Roland Emmerich
Jeffrey Nachmanoff
Dean Devlin

Starring:
Keanu Reeves
Jennifer Connelly
Kathy Bates
Jaden Smith
John Cleese
Jon Hamm
James Hong
Dennis Quaid
Jake Gyllenhaal
Emmy Rossum
Dash Mihok
Jay O. Sanders
Sela Ward
Will Smith
Bill Pullman
Jeff Goldblum
Mary McDonnell
Judd Hirsch
Robert Loggia
Randy Quaid

Casting By:
Heike Brandstatter
Mindy Marin
Coreen Mayrs
Carlyn Davis
April Webster
Wendy Kurtzman

Music From:
Tyler Bates
Harald Kloser
David Arnold

Director of Photography:
David Tattersall
Ueli Steiger
Karl Walter Lindenlaub

Editor:
Wayne Wahrman
David Brenner

Costume Designer:
Tish Monaghan
Renée April
Joseph A. Porro

Production Designer:
David Brisbin
Barry Chusid
Oliver Scholl
Patrick Tatopoulos

Producer:
Paul Harris Boardman
Gregory Goodman
Erwin Stoff
Roland Emmerich
Mark Gordon
Dean Devlin

Executive Producer:
Ute Emmerich
Stephanie Germain
Kelly Van Horn
Roland Emmerich
William Fay
Peter Winther

Distributor:
Twentieth Century Fox