Willow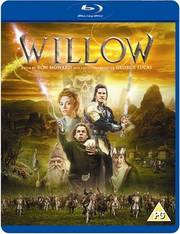 Certificate: PG
Running Time: 120 Mins
Retail Price:
Release Date: 11/03/2013
Content Type: Movie
Synopsis:
EXPERIENCE THE MAGIC OF WILLOW ON BLU-RAY!

Journey to the far corners of your imagination with Willow, for the first time ever on Blu-ray™! Now fully digitally restored, this release features a dazzling array of extras, including new, never-before-seen exclusive content.

From legendary filmmakers George Lucas and Ron Howard comes a timeless fantasy tale in which heroes come in all sizes... and adventure is the greatest magic of all. When young Willow Ufgood (Warwick Davis) finds an abandoned baby girl, he learns she is destined to end the reign of the wicked Queen Bavmorda (Jean Marsh). In order to protect the child, Willow must team up with a rogue swordsman (Val Kilmer) and overcome the forces of darkness in the ultimate battle of good versus evil!
Special Features:
Deleted Scenes With Ron Howard
The Making of an Adventure With Ron Howard
From Morf To Morphing With Dennis Muren
Willow: An Unlikely Hero - Personal Video Diary of Warwick Davis
Matte Paintings

Related Websites:
http://www.fox.co.uk/dvd/willow-20973_blu-ray/20973/

Directed By:
Ron Howard

Starring:
Warwick Davis, Val Kilmer, Joanne Whalley, Jean Marsh,

Producer:
George Lucas

Distributor:
Twentieth Century Fox Home Entertainment