Red Dwarf X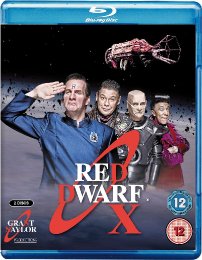 A moose!
Certificate: 12
Running Time: 178 mins
Retail Price: £24.99
Release Date: 2012
Content Type: TV Series
Synopsis:
Written and directed by Doug Naylor, six brand new episodes are accompanied by the We're Smegged feature-length documentary, deleted scenes with director's commentary, plus the compulsory Smeg Ups collection of out-takes.

Things begin with the Dwarfers' mining ship still creaking though the wastelands of uncharted deep space, as the posse soon stumble upon the mysteriously abandoned SS Trojan. When they inspect the ship, Rimmer receives an SOS distress call from an old foe and is suddenly faced with the dilemma of his life.

Throughout the series Lister grapples with the problem of being his own father, and gets involved in a love triangle with snack dispensers 23 and 34, whilst Kryten and Cat become quantum entangled forcing them to do everything in unison.

The posse also find themselves marooned in 23 AD where they rescue a famous historical figure with a beard...

The final episode of series 10, The Beginning, finds the boys surrounded by a Simulant War Cruiser and its fleet of attack ships. Armed with only two forks and a pencil sharpener, the Dwarfers begin to wonder whether this is the beginning of the end. Only one man can save them. Unfortunately that man is Arnold J Rimmer...
Special Features:
`We're Smegged` Documentary.
Deleted Scenes
Smeg Ups

Video Tracks:
1080i 50Hz 1.78 widescreen

Audio Tracks:
DTS-HD MA 5.1 Surround English

Subtitle Tracks:
English

Directed By:
Doug Naylor

Written By:
Doug Naylor

Starring:
Robert Llewellyn
Danny John-Jules
Craig Charles
Chris Barrie

Casting By:
Linda Glover

Music From:
Howard Goodall

Director of Photography:
Andy Martin

Editor:
Nick Ames

Costume Designer:
Howard Burden

Production Designer:
Michael Ralph

Distributor:
2entertain