The Castle Of Cagliostro: Double Play (Blu-ray)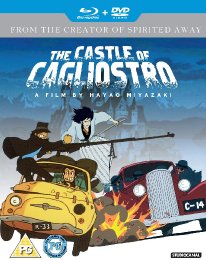 A Miyazaki classic returns the way it was meant to be seen!
Certificate: PG
Running Time: 100 mins
Retail Price: £24.99
Release Date: 2012
Content Type: Movie
Synopsis:
The Castle Of Cagliostro is the first feature film directed by Hayao Miyazaki. Now available for the first time on Blu-ray and in stunning high-definition, the film is also part of the hugely popular Lupin III animated TV series of which Miyazaki had written and directed a number of episodes.

Here, our iconic super-thief Lupin pulls off a thrilling heist at a Monte Carlo casino, only to discover the spoils are counterfeit. Lupin traces the fake bills to the country of Cagliostro where an evil Count is generating forged money and distributing it worldwide. With partners in tow (including a retired gangster, a modern-day samurai, and a beautiful female thief) Lupin heads to Cagliostro where he also finds a promise of hidden treasure and Clarice, a beautiful Princess in need of rescuing from the Count's dastardly clutches.

Maintaining the lineage of the Lupin III franchise, Miyazaki also imbues the proceedings with his customary wit and sense of the romantic - Miyazaki's heroes are always ready to come to the aid of a damsel in distress. Moreover, the film is lovingly detailed with the storybook kingdom of Cagliostro being beautifully redolent of the director's equally inspired later works.
Special Features:
Picture in Picture Storyboards
Trailer

Video Tracks:
1.85:1 widescreen 1080i

Audio Tracks:
DTS-HD MA 5.1 Surround Japanese
PCM 2.0 mono English
PCM 2.0 mono Japanese

Subtitle Tracks:
English

Directed By:
Hayao Miyazaki

Written By:
Hayao Miyazaki
Haruya Yamazaki
Yasuo Otsuka
Maurice Leblanc
Monkey Punch

Starring:
Eiko Masuyama
Goro Naya
Kiyoshi Kobayashi
Makio Inoue
Yasuo Yamada
Sumi Shimamoto
Tarô Ishida
Ichirô Nagai
Dorothy Melendrez
Dougary Grant
Ivan Buckley
Richard Epcar
Sean Barker
Ruby Marlowe
Sparky Thornton
Richard Barnes

Music From:
Yuji Ohno

Director of Photography:
Hirokata Takahashi

Editor:
Masatoshi Tsurubuchi

Producer:
Tetsuo Katayama

Executive Producer:
Yutaka Fujioka

Distributor:
Studiocanal