Naruto Shippuden: The Movie 1 & 2 Double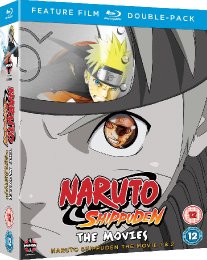 The number one ninja returns for a new feature-length adventure!
Certificate: 12
Running Time: 188 mins
Retail Price: £34.99
Release Date: 2012
Content Type: Movie
Synopsis:
Movie 1:
Demons that once almost destroyed the world, are revived by someone. To prevent the world from being destroyed, the demon has to be sealed and the only one who can do it is the shrine maiden Shion from the country of demons, who has two powers; one is sealing demons and the other is predicting the deaths of humans. This time Naruto's mission is to guard Shion, but she predicts Naruto's death. The only way to escape it, is to get away from Shion, which would leave her unguarded, then the demon, whose only goal is to kill Shion will do so, thus meaning the end of the world. Naruto decides to challenge this "prediction of death."

Movie 2:
Invasion of the Sky Ninja
A group of mysterious flying ninja have arrived from overseas to launch a sudden attack against the Hidden Leaf Village, leaving behind a wake of destruction. The group is revealed to be the "Sky Ninja" from the Land of Sky, a nation thought to have been destroyed by the Hidden Leaf Village long ago. To save their village, Naruto and his friends set out to stop this new threat. During the course of the mission, Naruto crosses paths with Sasuke, his friend who has parted ways from the Leaf Village.
Special Features:
Trailers
Special Opening Theme
Production Art

Video Tracks:
1080i widescreen 1.85:1
1080p widescreen 1.85:1

Audio Tracks:
DTS-HD MA 5.1 Surround English
DTS-HD MA 5.1 Surround Japanese

Subtitle Tracks:
English

Directed By:
Hajime Kamegaki

Written By:
Masashi Kishimoto
Junki Takegami

Starring:
Junko Takeuchi
Noriaki Sugiyama
Satoshi Hino
Chie Nakamura
Houchu Ohtsuka
Kazuhiko Inoue
Masako Katsuki
Rikiya Koyama
Kouichi Toochika
Kujira
Motoko Kumai
Nana Mizuki
Shinji Kawada
Showtaro Morikubo
Unshou Ishizuka
Jamieson Price
Maile Flanagan
Michelle Ruff
Kate Higgins
Stephanie Sheh
Yuri Lowenthal
Ben Diskin
Dave Wittenberg
David Lodge
Debi Mae West
Steve Staley
Steven Blum
Tom Gibis
Troy Baker

Music From:
Yasuharu Takanashi

Director of Photography:
Atsuho Matsumoto

Editor:
Seiji Morita
Yukie Oikawa

Distributor:
Manga Entertainment