Henry: Portrait Of A Serial Killer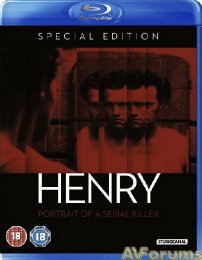 Special Edition available on Double Play
Certificate: 18
Running Time: 82mins
Retail Price: £19.99
Release Date: 24/10/11
Content Type: Movie
Synopsis:
"A Film of ferocious, haunting power"
*****
TIME OUT  

 Based on the harrowing true story of one of America's most notorious
mass-murderers, Henry Lee Lucas (portrayed with a dead-eye passivity by a
scarily resonant Michael Rooker), John McNaughton's Henry: Portrait of a Serial
Killer builds to a disquieting and horrific climax and provides a sobering,
nightmarish glimpse into a deranged and damaged mind. On its initial release,
America's MPAA gave the film the notorious X-rating, claiming that they
"wouldn't know where to begin cutting". While in Britain, Chief Censor James
Ferman took a whole year to give the film a certificate. "One of our
psychologists said the film was remarkably accurate," he argued, effectively
giving it its best review.
Special Features:
Portrait: The Making of Henry
The Serial Killers: Henry Lee Lucas
Interview with Director John McNaughton
John McNaughton in Conversation with Nigel Floyd
Censorship History Timeline
Commentary with Director John McNaughton
Deleted Scenes and Outtakes with Director's Commentary
Stills Gallery
Original Storyboards
Trailer

Video Tracks:
1.33:1

Audio Tracks:
2.0 Stereo

Subtitle Tracks:
English

Directed By:
John McNaughton

Written By:
John McNaughton
Richard Fire

Starring:
Michael Rooker
Tom Towles
Tracy Arnold

Casting By:
Jeffrey Lyle Segal

Music From:
Ken Hale
Steven A.Jones
Robert McNaughton

Director of Photography:
Charlie Lieberman

Editor:
Elena Maganini

Costume Designer:
Patricia Hart

Producer:
Lisa Dedmond
John McNaughton

Executive Producer:
Malik B.Ali
Waleed B.Ali

Distributor:
Studio Canal