All The President's Men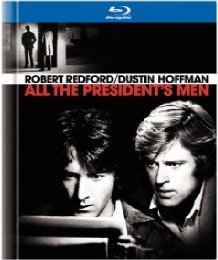 The most devastating detective story of the century!
Certificate: PG
Running Time: 128 minutes
Retail Price:
Release Date: 15/02/2011
Content Type: Movie
Synopsis:
It helps to have one of history's greatest scoops as your factual inspiration, but journalism thrillers just don't get any better than All the President's Men. Dustin Hoffman and Robert Redford are perfectly matched as (respectively) Washington Post reporters Carl Bernstein and Bob Woodward, whose investigation into the Watergate scandal set the stage for President Richard Nixon's eventual resignation.

Their bestselling exposé was brilliantly adapted by screenwriter William Goldman, and director Alan Pakula crafted the film into one of the most intelligent and involving of the 1970s paranoid thrillers.
Special Features:
Telling The Truth About Lies

Lighting The Fire

Out Of The Shadows: The Man Who Was Deep Throat

Pressure and The Press

Dinah!

Directed By:
Alan J. Pakula

Written By:
Carl Bernstein
Bob Woodward
William Goldman

Starring:
Dustin Hoffman
Robert Redford
Jack Warden
Martin Balsam
Hal Holbrook
Jason Robards
Jane Alexander

Casting By:
Alan Shayne

Soundtrack By:
David Shire

Director of Photography:
Gordon Willis

Editor:
Robert L. Wolfe

Production Designer:
George Jenkins

Producer:
Walter Coblenz

Distributor:
Warner Home Video