Toy Story 3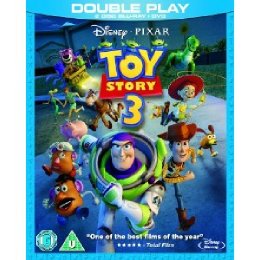 Certificate: U
Running Time:
Retail Price: £23.99
Release Date: 22/11/2010
Content Type: Movie
Synopsis:
There comes a time to put away childhood things, but some things won't stay put as Woody, Buzz and co. return for their greatest adventure yet! Packed to the gills with thrills, spills and chills, plus a lot of laughs and a little romance, Toy Story 3 is the family favourite that has it all!

The creative minds behind Disney/Pixar's groundbreaking animated blockbusters invite you back inside the toy box for a heartwarming and hilarious movie experience you'll never forget. In Toy Story 3, Woody (voiced by Tom Hanks), Buzz Lightyear (voiced by Tim Allen) and the rest of the Toy Story gang return for an all-new adventure, along with a few new faces - some plastic, some plush - including Barbie's counterpart Ken (voiced by Michael Keaton), a thespian hedgehog named Mr. Pricklepants (voiced by Timothy Dalton) and a strawberry-scented bear named Lots-O'-Huggin' Bear (voiced by Ned Beatty).

As Andy prepares to depart for college, Woody, Buzz, Jessie and the rest of Andy's faithful toys wonder what will become of them. But, when a mix-up lands them at Sunnyside Daycare, they meet a host of new toys and soon discover a wild new adventure is just beginning. Buzzing with hours of bonus features, including the Pixar short film Day & Night, Toy Story 3 goes to infinity and beyond!
Special Features:
Disc 1 - Blu-ray:
"Day & Night" Theatrical Short
Buzz Lightyear Mission Logs: The Science Of Adventure

Disc 2 - Blu-ray:
Toy Story Trivia Dash - Interactive Game
Cine-Explore With Director Lee Unkrich & Producer Darla Anderson
Beginnings: Setting A Story In Motion
Bonnie's Playtime - A Story Roundtable With Director Lee Unkrich
Roundin' Up A Western Opening
Beyond The Toy Box: An Alternative Commentary Track
Paths To Pixar: Editorial
3 Studio Stories

Disc 3 - DVD:
"Day & Night" Theatrical Short
Buzz Lightyear Mission Logs: The Science Of Adventure
The Gang's All Here - A Look At Returning Voice Talent
3 Studio Stories

Related Websites:
http://disneydvd.disney.go.com/toy-story-3.html

Starring:
Tom Hanks, Joan Cusack, Tim Allen, John Ratzenberger, Wallace Shawn, Ned Beatty, Don Rickles, Jodi Benson, Estelle Harris

Distributor:
Walt Disney Studios Home Entertainment