The Third Man: StudioCanal Collection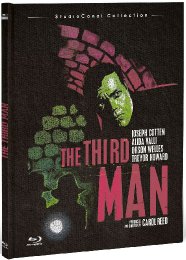 Hunted by men...Sought by WOMEN!
Certificate: PG
Running Time: 104
Retail Price: £24.99
Release Date: 13/09/2010
Content Type: Movie
Synopsis:
THE THIRD MAN is a British cinematic icon from director Carol Reed, author Graham Greene. An undisputed all-time classic, the film features some of cinema's most memorable set pieces -- the chase through the sewers, the enormous ferris wheel, the elm-lined cemetery -- and Anton Karas' zither score, a worldwide phenomenon in itself. Winner of the Palme D'Or at Cannes and the Oscar for Best Cinematography
Special Features:
SD, NEW or previously unreleased:
Guardian NFT Interview with Joseph Cotten (audio only: 47'13) / Guardian NFT Interview with Graham Greene (audio only: 8'05) / Audio Commentary by Guy Hamilton (Assistant Director), Angela Allen (2nd Unit Continuity) & Simon Callow (audio only: 1'44)

HD, NEW or previously unreleased:
2 x original trailers (1'46 mins & 2'19)
Stills gallery (2'24)
Interview and performance by zither player Cornelia Mayer (4'44)
The Third Man Interactive Vienna Tour (49'50)

SD, released before:
The Third Man on the Radio (an episode of The Lives of Harry Lime: Ticket to Tangiers (1951) written by and performed by Orson Welles) (audio only: 28'45)
Shadowing The Third Man -retrospective documentary (1hr29)
US alternative prologue by Joseph Cotton (1'20)

Booklet Essay by Charles Drazin, film historian / biographer
Charles Drazin is a film historian and biographer. His books include Korda: Britain's Only Movie Mogul, The Finest Years: British Cinema of the 1940s and In Search of The Third Man. He lectures on the cinema at Queen Mary, University of London.

Video Tracks:
1080p Standard 1.33:1

Audio Tracks:
DTS-HD Master Audio 2.0 Mono English
DTS-HD Master Audio 2.0 Mono French
DTS-HD Master Audio 2.0 Mono German
DTS-HD Master Audio 2.0 Mono Spanish

Subtitle Tracks:
French
German
Spanish
Dutch

Directed By:
Carol Reed

Written By:
Orson Welles
Carol Reed
Alexander Korda
Graham Greene

Starring:
Joseph Cotten
Alida Valli
Orson Welles
Trevor Howard
Paul Hörbiger
Ernst Deutsch
Erich Ponto

Soundtrack By:
Henry Love
Anton Karas

Director of Photography:
Robert Krasker

Editor:
Oswald Hafenrichter

Producer:
David O. Selznick
Carol Reed
Hugh Perceval
Alexander Korda

Distributor:
Studio Canal
Optimum Home Entertainment