Embodiment of Evil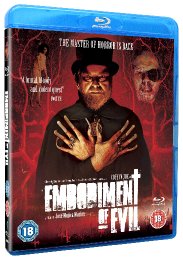 The Master of Horror Is Back
Certificate: 18
Running Time: 93
Retail Price: £19.99
Release Date: 27/07/2009
Content Type: Movie
Synopsis:
The sequel to "At Midnight I'll Take Your Soul" (1964) and "This Night I'll Possess Your Corpse" (1967), EMBODIMENT OF EVIL sees the sadistic undertaker Coffin Joe finally released from a prison mental ward after serving a 40-year term for kidnap, torture and murder.

Back on the streets, Joe is reunited with his faithful servant Bruno and continues his diabolic quest for "the continuation of the blood" by finding the perfect woman to bear him a son. Assisted by a quartet of fanatic followers, they begin kidnapping and testing the suitability of potential bearers of Joe's offspring. Still driven by madness, Joe is haunted by visions of the ghosts of his former victims and graphic hallucinations of a purgatory-like landscape filled with human suffering and depravity.

Meanwhile, a local police captain and a mentally unstable priest, both bearing their own personal grudges against the undertaker, have teamed up to hunt Joe down and to exact their revenge by destroying him once and for all.
Special Features:
- Making Of featurette
- Trailer

Video Tracks:
1080p Widescreen 1.78:1

Audio Tracks:
Dolby TrueHD 5.1 Portuguese
LPCM 2.0 Stereo Portuguese

Subtitle Tracks:
English

Directed By:
José Mojica Marins

Written By:
José Mojica Marins
Dennison Ramalho

Starring:
José Mojica Marins
Jece Valadão
Adriano Stuart
Milhem Cortaz
Rui Resende
José Celso Martinez Corrêa
Cristina Aché
Helena Ignez
Débora Muniz
Thaís Simi
Cleo de Paris
Nara Sakarê
Giulio Lopes
Eduardo Chagas
Luís Melo
Raymond Castile

Casting By:
Alessandra Tosi

Soundtrack By:
André Abujamra
Marcio Nigro

Director of Photography:
José Roberto Eliezer

Editor:
Paulo Sacramento

Costume Designer:
David Parizotti

Production Designer:
Cássio Amarante

Producer:
Caio Gullane
Fabiano Gullane
Débora Ivanov
Paulo Sacramento
Patrick Siaretta

Distributor:
Anchor Bay Entertainment