Marley & Me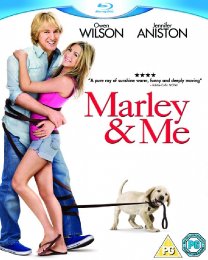 Heel the love
Certificate: PG
Running Time: 115
Retail Price: £24.99
Release Date: 06/07/2009
Content Type: Movie
Synopsis:
From the director of the Devil Wears Prada and based on the best-selling novel by John Grogan, Marley & Me leaps onto Blu-ray and DVD on the 6th July 2009 from Twentieth Century Fox Home Entertainment .

Featuring an A-list cast that includes Oscar-nominee Owen Wilson (Night at the Museum) and Emmy winner Jennifer Aniston (The Break-Up) the film tells the hilarious tail of a family who learn some important life lessons from their adorable, but naughty and neurotic dog.

When newlyweds John and Jenny Grogan (Wilson and Aniston) leave the snow of Michigan for the beaches of Miami, they decide to test-drive their parenting skills by adopting an energetic yellow Labrador retriever named Marley.

However, it's not long before their adorable 12-pound puppy transforms into a highly-strung, boisterous and uncontrollable 100-pound troublemaker.

From flunking obedience school, chewing through dry wall, and taking a bite out of the sofa Marley causes absolute chaos wherever he goes.

Despite the mayhem he generates, Marley sees the Grogans through the ups and downs of life and the countless challenges that come with it and soon they discover that Marley, 'the world's worst dog,' somehow brings out the best in them.
Special Features:
· Finding Marley - a look at the process of finding and training the 20 plus dogs that feature in the film
· Gag Reel
· Dog Training Trivia Track - Picture-n-Picture feature
· Dog Training 101 featuring BonusView video
· Breaking the Golden Rule - the "Golden Rule" being 'never work with children or animals'. In this piece the cast and crew discuss breaking that rule and the fun they had working on the film
· On Set with Marley: Dog of All Trades - we "talk" to Marley and learn about his hopes, dream and aspirations
· When Not to Pee - what it takes to recreate an "accident" that occurred on set during filming
· Animal Adoption - a discussion about the benefits of adopting a dog from an animal rescue centre and the importance of doing your research before getting a pet of any sort
· Deleted Scenes - with commentary from Director, David Frankel

Video Tracks:
1080p Widescreen 2.35:1

Audio Tracks:
DTS-HD Master Audio 5.1 English
DTS 5.1 Spanish
Dolby Digital 5.1 Czech
Dolby Digital 5.1 Hungarian
Dolby Digital 5.1 Polish
Dolby Digital 5.1 Turkish
Dolby Digital 5.1 English

Subtitle Tracks:
English
Spanish
Arabic
Bulgarian
Croatian
Czech
Greek
Hebrew
Hungarian
Icelandic
Polish
Portuguese
Romanian
Slovenian
Turkish

Directed By:
David Frankel

Written By:
John Grogan
Scott Frank
Don Roos

Starring:
Owen Wilson
Jennifer Aniston
Eric Dane
Kathleen Turner
Alan Arkin

Soundtrack By:
Theodore Shapiro

Music From:
REM
The Verve
Bob Marley

Director of Photography:
Florian Ballhaus

Editor:
Mark Livolsi

Costume Designer:
Cindy Evans
Patricia McLaughlin

Production Designer:
Stuart Wurtzel

Producer:
Karen Rosenfelt
Gil Netter

Executive Producer:
Arnon Milchan
Joe Caracciolo, Jr.

Distributor:
Twentieth Century Fox Home Entertainment