Max Payne: Harder Cut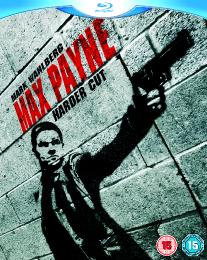 Certificate: 15
Running Time: 98
Retail Price: £24.99
Release Date: 13/04/2009
Content Type: Movie
Synopsis:
It's time to lock and load your Home Entertainment system. Mark Wahlberg is bringing carnage and retribution to the small screen on the 13th April as the grizzled, trigger-happy cop, Max Payne, in the highly-stylized movie adaption of the cult video-game. Hell-bent on revenge, the film follows Payne as he tears up the streets of an eerily quiet New York in a bid to find those responsible for the brutal murder of his family.

Brought to life by Director John Moore (Behind Enemy lines, The Omen) Max Payne is a rogue cop, hot on the trail of a killer and desperate for vengeance. Armed with his gun and a 'nothing to lose' mentality his investigations take him deep into a conspiracy-addled underworld, riddled with experimental drugs and unimaginable betrayals.

When his inquiries bring him head-to-head with sexy Russian mobster Mona Sax (Mila Kunis; Family Guy) his mission takes a violent twist as they join forces to take down the those responsible for the deaths of his family and her sister.

John Moore's atmospheric and noir-esque take on the classic computer game unfolds in the murky back alleys and dingy night clubs of a dark and rain-lashed New York. Bathed in shadows and with supernatural enemies lurking around every corner, Max Payne is a twist-riddled, conspiracy-soaked thriller, guaranteed to keep viewers on the edge of their seats.

Also starring Chris O'Donnell (Batman Forever, Scent of a Woman), Olga Kurylenko, (Quantum of Solace, Hitman) and Beau Bridges (Jerry Maguire, My Name is Earl), this Harder Cut of the original film seen in cinemas also features a cool Animated Graphic Novel. And for all Blu-ray owners experience the full package with Picture in Picture video guides taking you into the scenes, a Director commentary, D-Box capabilities and Digital Copy of the film to download.
Special Features:
• Harder Cut of film
• Digital Copy - allows you to download a copy of the film to your computer and portable devices
• Picture In Picture feature: 'Walkthroughs & Cheats' - Watch the Making of over 30 scenes from Max Payne with behind the scenes footage that plays in a frame within the picture
• Commentary by Director John Moore, Production Designer Daniel Dorrance and Visual Effects Supervisor Everett Burrell
• Animated Graphic Novel - Story of Michelle Payne
• D-Box capabilities (Motion activation to be used with a D-Box chair)

Video Tracks:
1080p Widescreen

Audio Tracks:
DTS-HD Master Audio 5.1 English

Subtitle Tracks:
Dutch
English
Danish
Finnish
Norwegian
Swedish

Directed By:
John Moore

Written By:
Beau Thorne

Starring:
Mark Wahlberg
Mila Kunis
Beau Bridges
Ludacris
Chris O'Donnell
Donal Logue
Amaury Nolasco
Kate Burton
Olga Kurylenko
Rothaford Gray
Joel Gordon
Jamie Hector
Andrew Friedman
Marianthi Evans
Nelly Furtado

Casting By:
Mindy Marin

Soundtrack By:
Marco Beltrami
Buck Sanders

Director of Photography:
Jonathan Sela

Editor:
Dan Zimmerman

Costume Designer:
George L. Little

Production Designer:
Daniel T. Dorrance

Producer:
Scott Faye
John Moore
Julie Yorn

Executive Producer:
Karen Lauder
Tom Karnowski

Distributor:
Twentieth Century Fox Home Entertainment