Anime Review Roundup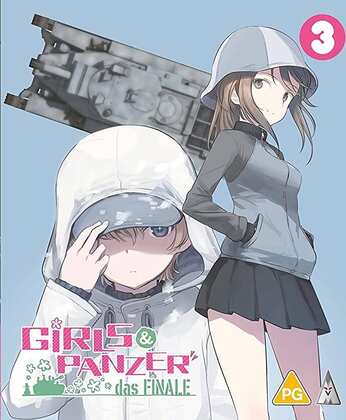 I took a look at
Girls Und Panzer das Finale 3
last week, and at this point, given how much I adore this franchise, you should know by now exactly what I'll say. Come to think of it, this is the kind of show that aims to fulfil expectations itself. Cute girls continue to do cute things in massive battle tanks from throughout history. It's all about a tournament, and there is a cyclical repetition in the structure of each story instalment. It's about how it tells its story, and in that respect, Girls Und Panzer das Finale 3 maintains the high standards set by the first two parts of this six film project, as well as the initial TV series. Click on the review to read again what I wrote about Part 2, but in different words
This Week I've Been Mostly Rewatching...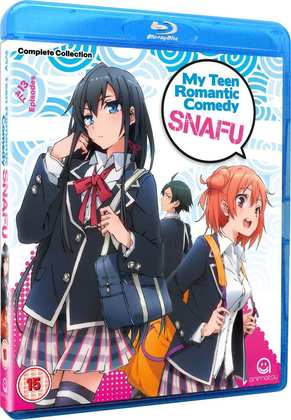 My Teen Romantic Comedy SNAFU. High school comedy anime are ten a penny, so it takes something special to grab my attention. This show seems run of the mill and innocuous to begin with, about an after school club established to help students with their personal problems. It's how the characters are written that makes all of the difference. The show's protagonist is a professional cynic, barely one step away from becoming a full on anti-social recluse, and who is forced by a pushy teacher to join the club. The leader is an aloof, opinionated, but similarly introverted girl, while the third member of the team is a peppy extrovert with self-esteem issues. In other words, people that are a lot easier to relate to than the average anime character.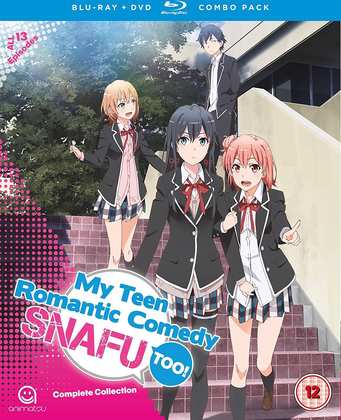 My Teen Romantic Comedy SNAFU was released on Blu-ray and on DVD by the short lived distributor Animatsu in 2016.
Here's my review
. The sequel, My Teen Romantic Comedy SNAFU Too came out in the same year, albeit as a BD/DVD combo release, also from Animatsu.
Here's my review of that
. They are still available to buy in the UK at the time of writing. There is a third season as well, My Teen Romantic Comedy SNAFU Climax, but it has yet to see a UK release. Sentai have released a Region A version, and Madman have released it on Region B Blu-ray. Good luck finding a way to import it now.
Star Trek: Deep Space Nine Rewatched Revisited.
I know, I wrote about re-watching my favourite Star Trek show before, but I feel I need to add further commentary, although this time not about the content. I'm up to Season 7, and I have to talk about the actual discs. These are the worst manufactured discs I have ever seen. All of them, from Season 1 to Season 7 are prone to delamination. That's when the adhesive binding the layers together starts to degrade, and reacts with the packaging to form a residue on the surface of the disc, causing playback errors at best, complete failure at worst. There is a way to deal with this, and I never thought I'd be washing all of my DS9 discs with warm soapy water before playing them. I've actually had to buy a couple of collections over again, but Paramount have effectively made discs that can only be watched once before degrading, especially if like me you leave five years between watches. Twenty years ago, this would have been cause for a class action thing, but it seems no one cares about physical media anymore. Either way, it's just one more reason to demand a Blu-ray upgrade for Star Trek Deep Space Nine.