Anime Review Roundup
In the last few years of their existence, Manga Entertainment concentrated largely on shonen action shows, and isekai "lost in a fantasy realm" adventures, coupled with curating their back catalogue and the odd wild-card title. Then they got bought out by Funimation Entertainment, and contrary to my expectations, Funimation kept on going the same way, appealing to Manga's existing fanbase by concentrating on shonen and isekai, with the odd wild-card like Fruits Basket and Nichijou. That essentially means that around half of Funimation's US titles stay in the US. That's why I had to import
Konohana Kitan
. It's a slice of life comedy drama with a difference. It's set in a hot springs inn on the border between heaven and earth, featuring a cast of anthropomorphised fox girls. There's a lot of character comedy to this show, but a whole lot of heart as well. Click on the review to read more.
This Week I've Been Mostly Rewatching...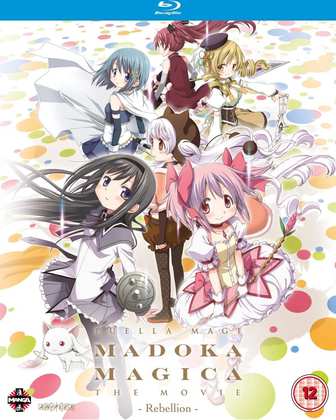 Puella Magi Madoka Magica The Movie: Part 3 – Rebellion. Puella Magi Madoka Magica was a show that pretty much did it all in its runtime. The 12 episode series effectively deconstructed its genre, and took its characters on a journey which had a pretty definitive ending. It was also a series that translated well into two spin-off movies that upgraded the animation, but told largely the same story. The question then, is how do you follow up a series with a definitive end? How can you make a sequel? The answer can be either to satisfy the fans by doing the same thing again, or risk alienating them by completely subverting what you have done before. With the Rebellion sequel movie, they do both. It looks at the start as if it's a re-run of the story, introducing familiar characters, in slight tweaked settings, magical girls in a reality that obeys slightly different rules from the original story. But then the movie goes off on one that completely re-writes the story, and more tellingly, completely re-writes a significant character. Whether the film succeeds or not depends on if you can buy into that.
Manga Entertainment released Puella Magi Madoka Magica The Movie: Part 3 – Rebellion on Blu-ray and on DVD in 2015. Like many Manga back catalogue titles that Funimation don't have the rights to, it's fallen out of print, and is no longer as readily available as it was 2 years ago. In fact at this point, sniffing out a second hand copy may be your only hope.
Here's my review of the Blu-ray
, and I can say that following my third viewing of the film, it's beginning to grow on me.
Funimation have the licence for Konohana Kitan in the US, most recently re-released on their budget Essentials label in 2020.