Anime Review Roundup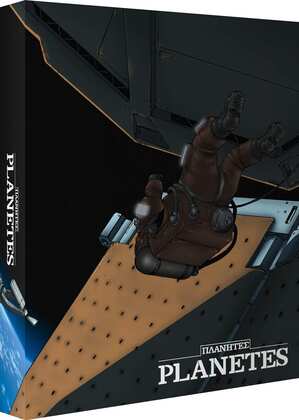 The world continually disappoints me. When I was a child, I saw Star Wars and Star Trek, and determined that was the future that I wanted to live in. It didn't take long before I realised that Jedi and aliens were in short supply. As a teenager, I scaled my hopes back and settled for flying cars and hoverboards after watching Back to the Future. 2015 came and went, and I still had to tie my own shoe-laces. There weren't even any replicants serving my every whim by 2019. Right now, the most likely future is a choice between extinction from a rapidly mutating virus or extinction from climate change. Merry Christmas by the way! The first time I saw
Planetes
, I was struck with the same optimism regarding a future that I might live to see. After all, its vision of a humanity living and working in space, in low Earth orbit and beyond is based on technology that we mostly have already, with the few extrapolations not too far-fetched. Alas, it seems that as a species, we won't even achieve this much. At least I'll have the best realistic sci-fi anime to escape to in my cynical middle age. Click on the review to see why it's a must have Blu-ray.
This Week I Have Been Mostly Rewatching...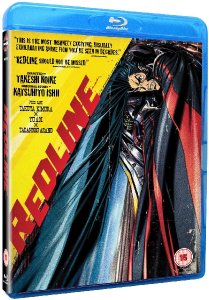 Redline. An exercise in pure style over substance, Redline is the ultimate anime viewer's experience. The story is ephemeral, and really quite meaningless in the grand scheme of things. It's best described as an insane, adult, sci-fi Wacky Races. It's set in a future where racers from across the galaxy come together to pit their skills in outlandish machines on alien race-courses. The ultimate race is the no-holds barred Redline, and this time it's taking place in an actual warzone, where the residents will destroy the racers to protect their military secrets. But for some, risking death is worth the glory of being the fastest driver around. And against all these alien drivers and alien vehicles, a human driver with an outlandish pompadour hairstyle has brought a souped up Trans-am.
Remember, long before the streaming age, with Netflix and the like, when home cinema was all about the demo disc, the ultimate in audio visual perfection that people would buy to show off the specs of their home cinema set-ups? Redline is the anime equivalent, the disc you used to make your friends green with envy. Its 'hand' drawn animation is delightfully old school, yet has intricacies and detail, and that inimitable style that no other anime has. The soundtrack is thumping, with music that matches the insane action sequences. This isn't a film where you ask how good the story is. You just immerse yourself into the aesthetics.
Here's my review
. Manga Entertainment released Redline on Blu-ray and on DVD in 2011. It's deleted now, so second hand will be your best bet.
All the Anime released Planetes on Blu-ray Collector's Edition on April 28th, while the standard Blu-ray release came out on the 1st of November.