Anime Review Roundup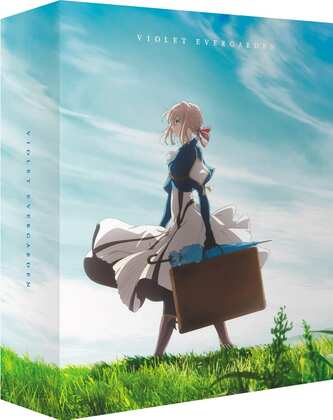 It was an epic journey to get
Violet Evergarden: Collector's Edition
released in the UK, and if you want to know more you can click on the review. Studio Kyoto Animation's tragicomic alternate world romance makes an impressive impact in this Blu-ray set. It follows the survivor of a war coming to terms with her injuries, and trying to find a new place in the world, as a scribe writing emotionally meaningful letters for her clients. It's a hard ask, given that she grew up, trained as a weapon, told to discard her emotions, and expected to serve as a killing machine on the battlefield. It's an amazing piece of world building, and very emotionally satisfying storytelling, and is well worth picking up.
This Week I Have Been Mostly Rewatching...

K-On! More Kyo-Ani! It was Manga Entertainment... sorry Funimation UK's release of the K-On Collector's Edition Blu-ray that got me in the mood to visit my favourite girl band in anime form. Manga originally released all but the film on DVD in the UK, the latter alone in getting an HD release, and fans have long clamoured for the show to get the HD upgrade as well, given that other regions have had the franchise on Blu-ray going on ten years now. It's the quintessential after-school club slice-of-life show, the first significant entry in what is now an oversubscribed genre. Four girls get together to play light rock music, and have lots of tea and cakes in an after school setting. Throw in Kyo-Ani's excellent animation and some genuinely catchy music, and you have one of the best anime shows of the last decade or so. I wanted to join in the fun and pulled out my old Madman Entertainment set, imported from Australia, only for the new UK release to be recalled following the discovery of some pixellated frames on the Season 1 discs.
Manga Entertainment released K-On! Season 1 on DVD way back when. I wanted it in HD, so I imported Madman Entertainment's Season 1 volumes on Blu-ray, released in Australia in 2011.
Here's my review of Volume 1
. That's very OOP now, and the same can be said for the original US Bandai release of Season 1. Sentai Filmworks subsequently picked it up and re-released it as a 2 disc collection, with the extras stripped out, yet with better audio, but that is region-locked/geo-locked. Your best bet for K-On! in HD is to wait for Funimation UK to fix the discs, and re-release their Collector's Edition.
All the Anime released the Violet Evergarden: Collector's Edition Blu-ray on April 26th.