Anime Review Roundup (Updated)
UPDATE: RIP Manga Entertainment
Isn't it always the way? You post an article, and suddenly someone tweets something that changes the face of the industry.
Quote:
Starting next week, Manga UK will begin to merge with Funimation

That means more anime, more often, for you! And while the name is changing, we're still the same team bringing you brilliant anime across home video, cinema and now... streaming!
It's already been happening behind the scenes, when it comes to e-mail addresses and social media, as well as on the cover of many Funimation titles that have been recently released in the UK, and it was inevitable from the moment that Funimation bought Manga Entertainment. But now it's finally happening. The Manga Entertainment brand is being retired, and from next week, the company will progress to becoming Funimation, although the logo will remain on certain titles like Dragon Ball Z for continuity. They know how irate fans can get when sleeves don't match on shelves.
I can't help but feel sad, as for me, Manga Entertainment, and before that Manga Video was my introduction to anime. I spent many an hour in HMV and Virgin, trawling the video shelves looking for cyberpunk animation to devour; and given just how prominent that name is, how much of a heritage it has for anime fans in this country, I can't help but think that Funimation are missing a trick by not keeping it alive, and may even earn a little bad karma by phasing it out.
More info here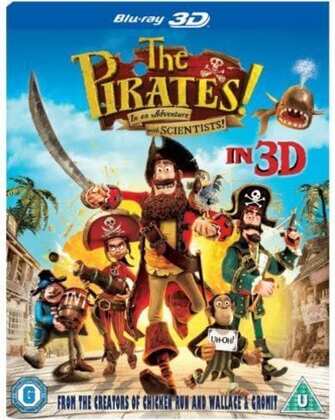 This is one of those weeks where I have to get creative to justify an Anime Review Roundup. After all,
The Pirates! In An Adventure With Scientists
isn't a Japanese animation. It is however a very English animation, classic stop motion from the acclaimed Aardman studios, the people behind Wallace and Gromit, and Chicken Run. It's a little bit steampunk a revision of the Victorian era, when a pirate crew encounter a young Charles Darwin, and set off in search of fortune and glory. It's best not to have any preconceptions when watching it; I did, and wound up expecting a completely different film from the ultimately entertaining yarn that unfolded. Click on the review for more.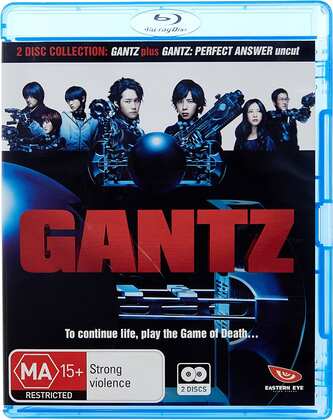 The
Gantz Movies 1 & 2 Collection
may be Japanese, but it's not animation. Although these films do adapt a manga that had previously been made into an anime (released in the UK by MVM). This is one of those survival games, where a bunch of characters 'die' only to be resurrected by a strange sphere and set to fight aliens to the death. Stylish, and action packed, the first movie adheres pretty closely to the original story, while the second film goes off in a completely original direction, but in combination, the two films are really quite good. They never got the release they deserved in the UK, and I wound up importing the films on Blu-ray from Australia.
This Week I Have Been Mostly Rewatching...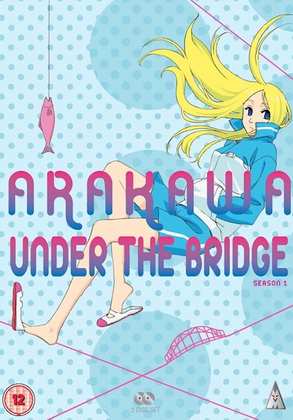 Arakawa Under the Bridge Season 1. I do not know why I like this show. We have a rich kid, who has been brought up by his father with an emphasis on independence and self-reliance that borders on abuse, and raised never to owe anything to anyone. This causes a problem when a cute girl saves him from a sticky end. She lives with a bunch of eccentric homeless people under a bridge. She thinks she's from Venus. The leader of the community is a man in a kappa (water imp) suit, but who says he's a kappa. There's a guy in a star mask playing a guitar, the salaryman only walks on white lines that he paints, a sadist woman runs a farm, a military man in a nun's habit runs a church, and he's the guardian of a cute little girl that can change into a Fist of the North Star character at the drop of a hat... This is one of those shows where the comedy comes from the extreme reactions of the straight man (the rich kid) to the absurdities of the comic (everyone else), and that by itself isn't really that funny. But the show is directed by Akiyuki Simbo of Monogatari renown, and it features his trademark animation style. And it's just really good to unwind to and smirk at, even if it doesn't make me laugh out loud.
MVM released the show on DVD in the UK, and it subsequently got a collected release with the second season.
Here's my review of the standalone season 1
. Naturally in this day and age, you'd want a Blu-ray, but as far as I can tell, only NISA released an English friendly Blu-ray in the US, and that was locked to Region A.
Sony Pictures Home Entertainment released The Pirates! In An Adventure With Scientists on 3D and on 2D Blu-ray as well as DVD in 2012. Madman Entertainment in Australia released Gantz Movies 1 & 2 Collection as a Blu-ray double pack in 2013 following individual releases, although if you want just the DVDs, you don't have to import, as Manga Entertainment released those in the UK.