Anime Review Roundup
Things are beginning to slow down in home cinema as well as the more social aspects of entertainment. Small companies like Manga and Anime Limited can work remotely, but as the infrastructure gets stressed, bottlenecks will appear and delays and postponements for Blu-ray and DVD releases will also occur. That's got nothing to do with the reason I only have one anime review ready to go today, but now is a great time to look back through your collection to find something you haven't seen in a while. I tend to do that anyway as per my little re-watch corner. Of course you can always stress your broadband connection and stream something new. Crunchyroll and Funimation and HIDIVE are still putting out new anime, although Funimation's Simuldub project is less 'Simul' now given the challenges of working through social distancing, and recording dubs from various homes, while at the same time production schedules in Japan are facing a few delays.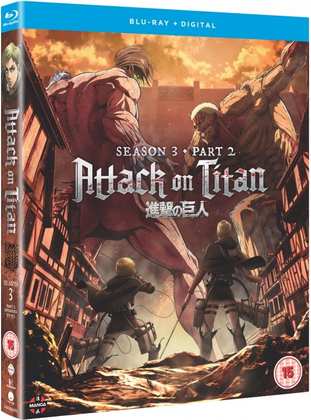 But that one review this week, it's a doozy, as I had the immense pleasure of watching and reviewing
Attack on Titan Season Three Part Two
. I'm not going to tell you too much about it. It may be the next instalment of that show about the man eating giants, and the soldiers swinging through the skies like an army of Spider-men, that do battle with them. But this release of ten episodes is the one where revelations are revealed, plot-twists are twisted and the world changes. Frankly, you need spoilers for this collection as much as you need spoilers for One Cut of the Dead (seriously, great film, go watch it now).
This Week I Have Been Mostly Rewatching...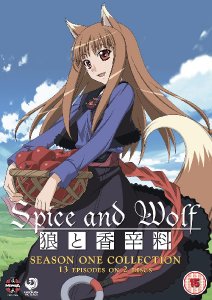 Spice and Wolf: Season 1, which if you are stuck at home with a wall of home entertainment that you spend two hours staring at without being able to make a choice, is an easy recommendation if it is one of your choices. It's a show unlike any other, a mediaeval economic romance between a peddler and a wolf, albeit a mystical wolf in the guise of a cute girl with wolf ears and a bushy tail (it is anime after all). The peddler Craft Lawrence travels from town to town, buying and selling goods, in the business of making a profit. In one village he encounters the wise wolf Holo, who since ages past has been the lucky talisman of the village, blessing them with a good wheat harvest. But with modern farming techniques, her blessings are no longer required and after hundreds of years, she's ready to return home to the North. She joins Lawrence as he travels from town to town, adding her unique perspective to his business deals, and getting caught up in all manner of economic adventures. The stories are thought provoking to the point they might actually tax the grey matter, while the romance is an exceedingly rare one for anime; all about the dialogue and the exchange of witty banter.
Manga Entertainment released Spice and Wolf: Season 1 on DVD way back in 2012, yet you can still get it today.
Here's my review of that release
. In the US the show was released by Funimation, on DVD and subsequently on Blu-ray. Right now you'll be able to find the Complete Collection, which has both seasons in Anime Classics form, which is a BD/DVD combo, and the later Classics Blu-ray only release. The Blu-rays are region B compatible, but be aware that Season 1 is an unnecessary upscale from SD (the series was animated in HD).
Manga Entertainment release Attack on Titan: Season Three Part Two on Blu-ray and on DVD today. There is also a Collector's Edition Combo release.