Anime Review Roundup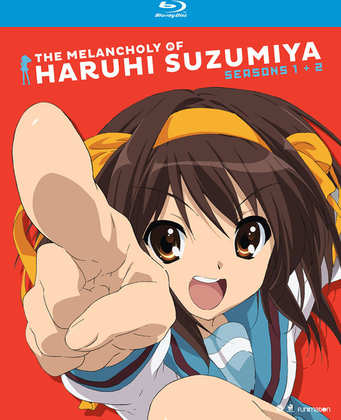 Disappointment of the week was
The Melancholy of Haruhi Suzumiya Seasons 1 and 2
on Blu-ray. It's frustrating to begin with that Season 1 of the show was licensed for UK BD release years ago and is yet to make an appearance. But last week, I learned that there are some shows that aren't worth revisiting, that they really are of their time. Funimation's release of the TV series has two problems. First, it has everything in chronological order, and second, it has Season 2, which other than the first episode turned out to be an utter troll to the fans. But even when you take Season 1 by itself, it's not as good as it once was. Let's face it, we've moved on from espers, time travellers and aliens, and expect after-school clubs to be populated by Chunibyou. Click on the review to share my disappointment. To think, I gave the DVD 10/10 once!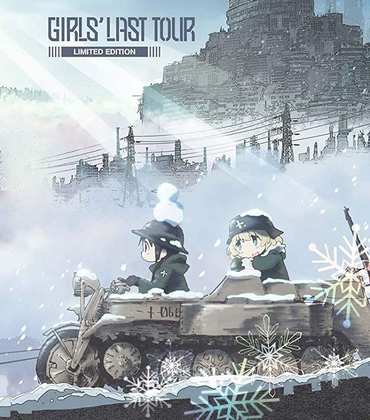 Next up is something contemporary and a whole lot more satisfying.
Girls' Last Tour
is about the end of the world. Following the end of a devastating war, two girls wander through the ruined city on their armoured motorcycle, looking for food and fuel, and some signs of civilisation. Despite the premise, it's a light-hearted and easy going series, a nice mix of humour and philosophical contemplation. It's well worth a look if you have the time.
This Week I Have Been Mostly Rewatching...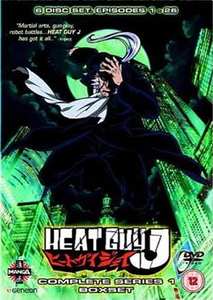 Heat Guy J. Manga Entertainment could get under the skin with their release practices once upon a time. They initially released two double volumes of Heat Guy J, and then gave up on that and released the whole thing as a boxset, making early adopters buy the first two volumes over again. Come to think about it, they're still up to their old tricks going by the forthcoming Hellsing Ultimate boxset release. Heat Guy J comes from Kazuki Akane, the director of the fan favourite Escaflowne, and the sublime Noein. Heat Guy J is him slumming it a little though, with a more middle of the road show, about a special investigator and his robot, in a city where robots are illegal. There's plenty of mystery and conspiracy, and the episodes are still fun to watch, but after all this time, it's clear the show is structured like a video game. You'll see supporting characters in their usual clothes and environment unless the plot requires them to be somewhere else, and once you twig that, it can't be un-twigged.
Heat Guy J was released on DVD by Manga Entertainment in 2006, and it's deleted now.
Here's my review, pre-twigging
. Your best bet is second hand, or if you can spin Region 1, Funimation's S.A.V.E. version is available to import.
Funimation also released The Melancholy of Haruhi Suzumiya Seasons 1 & 2 on Blu-ray in Collector's and Standard form back in 2016, and the discs are Region B friendly. MVM released Girls' Last Tour on Blu-ray Collector's Edition last Monday, May 13th, while a standard version will be along in August.