Anime Review Roundup
STUDIO4°C and Anime Limited Partner Up to Kickstart the Blu-ray Release of Cult Classic MIND GAME
Quote:
Glasgow, UK March 27, 2017 - Anime Limited are excited to announce partnering with STUDIO4°C to help Kickstart the Blu-ray home video edition of the hit cult film MIND GAME by award winning director Masaaki Yuasa.

MIND GAME made waves in 2004 to much critical praise, launching director Masaaki Yuasa's unique creative vision onto the world. As a directorial debut, it doesn't get much more striking - and now 13 years later, STUDIO4°C are looking to bring you this cult classic on Blu-ray with the help of a passionate animation community via Kickstarter.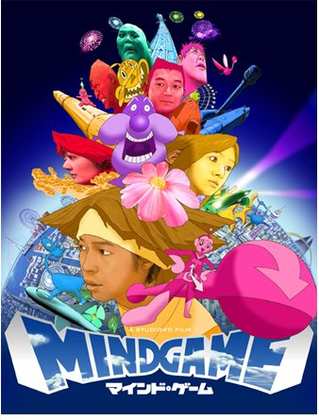 About MIND GAME

Nishi has always loved Myon since they were little. And now as adults, he wants to pursue his dream of becoming a manga artist and marrying his childhood sweetheart. There's one problem, though. She's already been proposed to and thinks Nishi is too much of a wimp. But upon meeting the fiancé while at her family's diner and accepting him as a good guy, they encounter a couple of yakuza, only to have Nishi grasp a certain revelation. And, with his newly acquired look on life, adventures abound as he, Myon, and her sister, Yan, escape the yakuza into a most unlikely location where they meet an old man...

About the Kickstarter

Anime Limited are working with STUDIO4°C to crowd-fund a Blu-ray release of this cult masterpiece to come in 2017. While the Kickstarter aims to raise £4,500 in funding, STUDIO4°C will raise and contribute the remainder.

This comes at a very exciting time as MIND GAME has never had a HD release on home video - and with Masaaki Yuasa's two new films on the horizon for later this year, this is an exciting opportunity to see where it all began for the enigmatic director.

Backers of the Kickstarter will get their hands on a collector's edition blu-ray release of the film as well as additional rewards. Plus, it's a great way to support the early works of one of the top directors coming out of Japan and help bring it to home video for fans outside Japan.

The MIND GAME Kickstarter launches on Thursday, 30th March at 12pm BST.
This Week I've Been Mostly Rewatching...

Terracotta released Gyo on DVD in the UK on their Terrorcotta label in 2012, and it is still available to buy today for bargain bucket prices. The subtitling isn't up to standard, but the gist still gets through, and if you want it on Blu-ray, there is an Australian release.
Here's my review of the UK DVD
.
As for this, just a little nudge if you are still one of those anime fans who are yet to pick up Kids on the Slope, a little something of what you are missing.
All the Anime released Escaflowne on standard Blu-ray, and Eden of the East Collector's Edition Blu-ray on February 20th. They release The Mobile Suit Gundam Movie trilogy on Blu-ray today, although it's an exclusive through their Anime Limited webshop, limited to 500 copies. Funimation released Absolute Duo on Blu-ray DVD combo on February 27th, while their combo release of Mikagura School Suite came out on March 13th.